Raise a Floppa - The Loop
Play Sound
"À la Folie" (referred to as "A La Folie" in-game) by Julien Granel and Lena Situations is featured on Just Dance 2022, where it is a regional exclusive that can be played in France and select Francophone regions, including Belgium and Canada. The song is playable worldwide with a Just Dance Unlimited subscription. This song is also featured on 舞力无限.
Appearance of the Dancer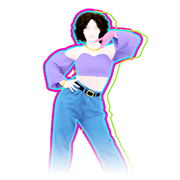 The dancer is a woman with an afro representing Lena Situations. Throughout the routine, she appears in five different wardrobes.
C1
In her first outfit, the coach wears a lilac crop top with off-shoulder poofy sleeves, oversized blue pants rolled up at the ankle and pink fuzzy heels. She accessorizes with a black belt with a yellow buckle, a gold chain and gold bracelet on her left wrist. Her glove is light pink.
C2
In her second outfit, the coach wears an orange and yellow beret, a long orange and yellow dress and a pair of orange strappy heels tied up in a bow. She accessorizes with a gold chain and a gold bracelet on her left wrist. Her glove is light purple.
C3
In her third outfit, the coach wears a red unbuttoned jacket with black buttons with a black bra underneath and red jeans with a pink stripe on each side. Her heels are light orange and she wears a pair of mint green cat-eyed sunglasses with black lenses. She accessorizes with a gold necklace, a gold bracelet on her left wrist and small hoop earrings. Her glove is purple.
C4
In her fourth outfit, the coach keeps the black bra, bracelet and earrings and wears a dark red beaded skirt with black shorts underneath, red strappy heels with black soles and multiple gold necklaces. She also adds a thicker gold bracelet on her right wrist and a choker. Her glove is purple.
C5
In her last outfit, the coach wears a black dress that gives the appearance of a jacket with shiny black buttons. The top right of it is cut off, showing a black bra underneath. The rest of the outfit includes yellow heels, multiple gold bracelets on both wrists and a thick gold chain. Her glove is purple.
Background

This section is a stub. You can help by adding to it.
The routine takes place throughout five locations in Paris. It starts in Lena's apartment, and a yellow cursive font scrawls across the screen to write "A La Folie".
The background is very light. There is light green grass with a patches of darker grass and a light blue sky where blue and cyan rings radiate from the ground up. Clouds and birds can also be seen. In the back stands the Eiffel Tower which is outlined alternately in pink and yellow, and many colorful square or block shaped trees on the side (pink, green, purple, yellow, white - all light colors), dark green street lights and little dark green and light green trees. In the background there are also flying stars (blue, white, yellow, pink - all light colors).
Gold Moves
There are 2 Gold Moves in this routine:
Gold Move 1: Raise your right hand and flap it.
Gold Move 2: Raise your right arm to your face and pull your left arm back.
Trivia
The lyrics have been changed for Just Dance in collaboration with the Just Dance Team.[2] This makes A La Folie the fourth song to be re-recorded specifically for Just Dance, after Je sais pas danser, Flash, and Nails, Hair, Hips, Heels.

It is the first re-record where the original artist has their recorded parts unaltered, with the changes involving the addition of Lena Situations to the song.

A La Folie was leaked on the French version of the Just Dance 2022 box art which was uploaded to the Nintendo website.[3]
A La Folie is the eighth map where the artist makes an appearance in the background, after My Main Girl, Je sais pas danser, The Way I Are (Dance With Somebody), J'suis pas jalouse, On Ne Porte Pas De Sous-Vêtements, Djadja, and Flash.
The gameplay teaser has no HUD.
The preview was uploaded twice to the Just Dance UK channel, but the duplicate was deleted soon after. This is also the case with Koi.

Additionally, the accent on the A is missing from the title of the UK and German previews.
Gallery
Game Files
In-Game Screenshots
Promotional Images
Beta Elements
Behind the Scenes
Others
Videos
Official Audio
Gameplay
References