"アゲ♂アゲ♂EVERY☆騎士" ("Age Age Every Knight") by DJ OZMA is featured on Just Dance Wii 2.
Appearance of the Dancer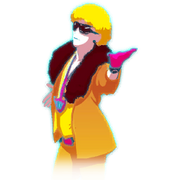 The dancer is a man with curly orange hair. He wears a pair of hot pink glasses, an orange jacket which covers a yellow shirt, a purple necklace, a pair of yellow pants, as well as a pair of burgundy penny loafers. At the end, he fades away with a golden glitter effect.
Background
The background is a dance floor with a checkered floor in shaded of green and black, two red sofas, a bright, square lamp on the roof, two spotlights on each side, and a bar behind. There are also four men and two women who follow the coach's dance moves, appearing one by one. When "Bounce with me" is sung, these words appear on the floor. At the end, "LOVE" appears in the air with a heart, written in a red-pinkish, glittered font
Gold Moves
There are 6 Gold Moves in this routine:
Gold Move 1: Point to the screen with your right hand.
Gold Move 2: Point to the floor with both hands.
Gold Moves 3 and 6: Point to the right, but lower.
Gold Move 4: Swipe your hands to the side.
Gold Move 5: Point up with both hands.
Trivia
This is the first routine to feature lyrics from the song in the background.
The barista wears the same clothes as P2 from Hot Stuff.
The coach's hair is yellow instead of orange on the menu icon.
If his involvement with Kishidan is included, this is the second song by DJ OZMA in the series.
Gallery
Game Files
In-Game Screenshots
Videos
Official Music Video
Gameplay
Extractions
References
Community content is available under
CC-BY-SA
unless otherwise noted.