Raise a Floppa - The Loop
Play Sound
I wonder where were you...

This page concerns content that has been shelved or removed from the series. Before updating this article, please ensure the veracity and verifiability of the information. Remember to cite your sources.
"爱有引力 (Ai You Yin Li)" (also known as "Real Love") by Chris Lee was planned to be on 舞力全开:活力派 but was never released into the game before the shutdown of the game.[2]
Appearance of the Dancer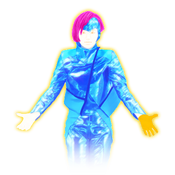 The coach is a man, who has pink hair, with the left side in a short bob and the right side bare. He wears a turquoise metallic suit that covers the body and parts of the head. It is composed of a long-sleeved jacket with a high neck, a diagonal cut, small holes on the wrists and several non-metallic patches, a matching shirt underneath, a pair of pants and a pair of boots with a blue heel. His outline is yellow.
Throughout the routine, the coach's outfit gradually turns into shades of green or purple before going back to its original color.[3]
During the beat drop, the entire outfit is yellow, the glove is sky blue, and the outline is green.[1]
Background
The background is a grayish-blue gradient with a shade of pink in the middle. There are floating blue cubes scattered everywhere. In the first and second chorus, the dancer's copies, which are in transparent cubes, light up in red, pink, purple, green, orange, and blue. The far background changes gradients. During the first breakdown, the copies flash different colors. After the second chorus, it transitions to a grayish-blue-pink gradient with transparent floating cubes that glow pink, purple, blue, and orange. In the second breakdown, they flash pink, purple, and orange, and then disappear. In the final chorus, it shows the cubes lighting up in random colors to the beat of the song.
Gold Moves
There are 3 Gold Moves in this routine:
Gold Moves 1 and 2: Bring both of your arms down one-by-one near your hips, as if you were beating a drum.
Gold Move 3: Bend down and punch your right arm to the left, diagonally.
Trivia
The menu square coach has a very thin outline, as opposed to the banner and selection coach.
Ai You Yin Li is one of the many routines in 舞力全开:活力派 whose video file could not be found in the game servers for a long period of time, along with 4 Walls, Kuai Le Chong Bai, Bang Bang Bang, Mai! Mai! Mai!, Jiu Ge and Gee.
In a Behind-the-Scenes video made to promote 舞力全开:活力派, an early version of the routine could be seen, where the coach's outfit was less bright, the hair was navy blue instead of pink, the copies weren't blue, and the background was less detailed.
Despite that the color scheme changes, the pictograms remain the same.
Gallery
Game Files
Beta Elements
Videos
References