"Alfonso Signorini (Eroe Nazionale)" by Fedez ft. Elio is featured on the PAL version of Just Dance 2014.
Appearance of the Dancer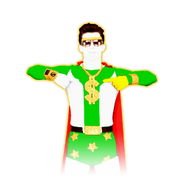 The dancer is a man. He starts off in a black suit and orange shirt underneath, with a blue tie and shoes. He appears to be a government official. He then transforms into a red, white and green superhero outfit, he also has sunglasses, and a necklace with a dollar sign, and stays like that for the rest of the song.
Background
At the start, when the dancer is in a suit, he stands in an area based off of Times Square, made out of a reflective material like glass or plastic. The background is in a general dark blue color, with buildings with electric billboards.
When the dancer transforms into a superhero, the background changes into a scrolling star pattern of red, white, and green, corresponding with the colors on his costume.
In the rapping part, the background turns into a gradient of dark blue, with blue neon lights (buildings) turning on and off like an equalizer. A crowd is cheering in front of the buildings.
For the routine, the background toggles through each phase, corresponding to the part in the song.
Gold Moves
There are 3 Gold Moves in this routine, all of which are the same:
All Gold Moves: Point your fingers to your chest.
Alfonso Signorini (Eroe Nazionale) appears in the following Mashups:
Alfonso Singorini (Eroe Nazionale) appears in Party Master Modes. Here are the captions attributed to his dance moves:
Super Crazy Shake
Super Loser
Trivia
General
Alfonso Signorini (Eroe Nazionale) is the second Italian-language song to be featured in the series.
"

I glutei

", "

f*ga

" and "

piscia

" are censored.

Alongside María, Alfonso Signorini (Eroe Nazionale) is the first of two non-English songs in the series where a word had to be censored.

In the music video of the song, there is a screen playing Jailhouse Rock from Just Dance 4.
Even though the Italian singer Elio (from the pop band Elio E Le Storie Tese) performs the intro and the chorus, he is not credited in any form in the game.

This is because he is not credited on the official release of the song.

Alfonso Signorini (Eroe Nazionale) is the second song in the series to have been named after a real person (in this case, Italian television host Alfonso Signorini).
Classic
Alfonso Signorini (Eroe Nazionale) is the first PAL exclusive to have a male coach; it is followed by Papaoutai.
Both the colors of the dancer's superhero outfit and one of the backgrounds reference the Italian flag.
In the line "Vai Alfonso!", "Vai" is absent.

In addition, "è" (in the line "Il colore di quest'anno è il verde speranza") appears without its accent.

The album coach does not have a white fade (unlike the other songs in Just Dance 2014).
Gallery
Game Files
In-Game Screenshots
Beta Elements
Behind the Scenes
Others
Videos
Official Music Video
Gameplay
Extraction
References