"Cowabunga" by Nathaniel Cooper & Lee Gordon is featured on Just Dance 2018 as part of Kids Mode, Just Dance Now, and Just Dance Unlimited. In the game, the song is titled as "Amazing Girl" and the artists are credited as The Girly Team.
Appearance of the Dancer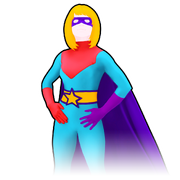 The dancer is a superheroine. She has blonde hair in a bob cut. She wears a purple mask and cape, a cerulean bodysuit with a yellow belt which has a star buckle and a purple outline, red boots with star motifs, and a red glove for her left hand with a pink glove for her right one.
Background
The dancer is dancing on top of a building at nighttime. Behind the dancer, there is a city with buildings, a bridge, a blimp, and a distress signal. When the dancer poses, the background becomes a comic-like background with clips of the dancer and some writings in a comic-style font.
Gold Moves
There are 2 Gold Moves in this routine, both of which are the same:
Both Gold Moves: Put your right arm up, your left arm to the side, and lift your left leg.
Amazing Girl is featured in the following playlists:
Just Dance Now
Kids Corner
All Songs A-E
Trivia
Amazing Girl's original name is Cowabunga.
Amazing Girl is the tenth song by The Girly Team in the series.
Amazing Girl is tied with Happy Farm for having the least amount of pictograms (55) in Just Dance 2018's Kids Mode.
The moon in the background was first seen in Never Gonna Give You Up.
According to the code name used in the game files, the original song title was probably going to be Miss Amazing.
Gallery
Game Files
In-Game Screenshots
Promotional Images
Behind the Scenes
Others
Videos
Gameplays
Extractions
References