This article is about the song by Anja. You may be looking for the song by Queen with a similar name.
"Baby Don't Stop Now" by Anja was featured on the Wii version of Just Dance 3 as a downloadable track, but became unavailable following the shutdown of the Wii Shop Channel in January 2019. The song is still playable on the PS3 version of Just Dance 3 as well as Just Dance: Best Of and Just Dance: Greatest Hits.
Appearance of the Dancer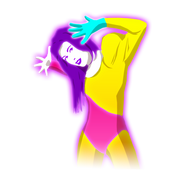 The dancer is a woman with long dark purple hair. She is wearing a tight yellow catsuit with puffy sleeves and a diagonal fuchsia panel across the torso and her right arm. The dancer is given a red/cyan anaglyph 3D effect to make her look like an illusion.
Background
The background is a dark hallway with a purple-and-black checkered pattern ceiling and floor, which glow with the dancer's moves. On the left and right sides of the dancer are doors that light up in blue and pink.
Gold Moves
There are 5 Gold Moves in this routine:
Gold Moves 1, 2, and 3: While on your knees, slowly lift your right hand down with your left arm on your back.
Gold Move 4: With bent elbows, put your arms in a circle.
Gold Move 5: Move backwards while moving your arms in a circle as if someone pushed you.
Shout-Out Lines
There are 6 Shout-Out Lines in this routine, all of which are the same:
All Shout-Out Lines: "Love me"
Baby Don't Stop Now is featured in the following Mashups:
Baby Don't Stop Now appears in Puppet/Party Master Modes. Here are the captions attributed to her dance moves.
Charismatic Distress
Crazy Drive
I'm Stuck
Release Me
Release My Head
S.O.S.
Tug Of War
Baby Don't Stop Now appears in the following playlists:
Just Dance 3
Trivia
General
Baby Don't Stop Now is the second song by Anja in the series.
The original song had some lines that contain sexual innuendos; thus, they were changed to different lyrics in-game:

"You make me so hot" is changed to "Believe it or not".
"Let's do it" is changed to "Keep dancing".
"When we make love it's so strong, let's do it all night long" is changed to "It feels so right, can't be wrong, I knew it all along".

Baby Don't Stop Now is currently the only PlayStation 3 exclusive on Just Dance 3 to not be available on Just Dance Now or Just Dance Unlimited.

This is also the only PlayStation 3 exclusive to be a Ubisoft original song rather than a stock library song.
Routine
This routine is one of the first routines in the series to involve zoom effects: it happens when the coach kneels on the floor and does the Gold Move before the chorus.
In the preview on the Wii store, the dancer and background have no effects.
In the song's appearance in Mashups and Party Master Modes in Just Dance 2015, the pictograms are yellow instead of pink.
In Just Dance: Greatest Hits on the Xbox Kinect, some moves using the left hand are not counted for, despite other songs counting moves using the left hand for score.
The coach selection image on the Xbox 360 version is different than the one on both the Wii and PS3 versions.
Gallery
Game Files
In-Game Screenshots
Others
Videos
Official Audio
Gameplays
Extractions
References
Community content is available under
CC-BY-SA
unless otherwise noted.