New Pokemon Games - The Loop
Play Sound
I wonder where were you...

This page concerns content that has been shelved or removed from the series. Before updating this article, please ensure the veracity and verifiability of the information. Remember to cite your sources.
This article is about the song by Kris Wu. You may be looking for the song by M.I.A with a similar name.
"Bad Girl" by Kris Wu was intended to be featured on 舞力全开:活力派 and 舞力全开2017[2], but was not released on either of the games.
Appearance of the Dancer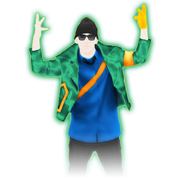 The coach is a male who wears a black beanie with black sunglasses. He also wears a dark blue shirt with two black circular necklaces and a yellow strip of line across his shirt, a cyan jacket with yellow lines, and black pants with cyan shoes.
Background
The routine starts with a dark background showing the title as a neon sign. When the coach starts moving, the background shows a variety of red and white lights in a row (like a sort of gallery) with a imposing light on the background and shiny circles. During the choruses, the lights move backwards along with many neon trails.
In the verses, there are other circles, which gradient varies from green to yellow; they are later replaced by a blue background with small, golden lights creating circles, spirals, and many other effects.
In the pre-chorus, the background is red and features shiny circles from red to yellow along with lines, which quickly disappear when the chorus is about to start.
In the second part of the chorus, there are semi-transparent rectangles with shiny dots replacing the gallery.
In the final verse, the shiny circles and the lines create different effects and have different colors.
Gold Moves
There are 4 Gold Moves in this routine:
Gold Moves 1 and 2: Bend over and move your arms in opposite directions, making them cross.
Gold Moves 3 and 4: Move your right arm diagonally from bottom to top, towards the right side while waving.
Trivia
Including with his involvement with EXO-M, this is the second song by Kris Wu.
Bad Girl, along with Bang Bang Bang, Deep, Gee, Growl and Mayores, are the only known songs to be scrapped from two different games.
At the beginning of the third chorus, the broken effects in the background do not react to the zooms like they do in the first and second choruses.
In the game, Kris Wu is credited as Wu Yi Fan (吴亦凡), which is his birth name.
In the lyrics, "You are" is spelled as "U R".
The backup line in the second pre-chorus "(You're so f***ing bad)" does not appear in the lyrics and is censored.
Gallery
Game Files
In-Game Screenshots
Behind the Scenes
Beta Elements
Others
Videos
References