Remove the bandaids!

This article contains images or videos with watermarks. If possible, please replace them with non-watermarked media.
"Bad Romance" (Official Choreo) is playable on Just Dance 2015 and 舞力全开2015, where the routine can be unlocked through normal gameplay.
Appearance of the Dancer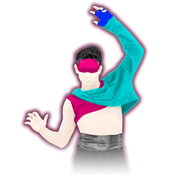 The alternate coach is a man with short black hair. He wears a pink blindfold, a teal one-sleeved cropped shirt that is highly cut on the left, a dark pink crop top and black shorts. He also wears pink and blue striped socks, black boots. His glove is fingerless.
Background
It uses the Extreme background from the previous game; an array of flashing platforms and quadrilaterals. The colors that flash are red, violet, and teal.
Gold Moves
There are 3 Gold Moves in this routine:
Gold Moves 1 and 2: Bring your arms downward and give your legs a slight shake while kneeling.
Gold Move 3: Quickly bring your arms upward and give them a strike.
Bad Romance (Official Choreo) has a Community Remix featuring the finalists from the Just Dance World Cup. Thus, it is the first 'themed' Community Remix in the series.
The following are featured:
Dih_San [Brazil]
Tulioakar96 [Brazil]
TheFairyDina [France]
Moogly-H [Australia]
Stef [Denmark]
Littlesiha [USA]
Keikodancer [USA]
Roxsora13Xx [France]
RenoTonakai [Netherlands]
dim0n19 [Russia]
nounet racein2ix [France]
Kelvin Jaeder [Brazil]
Bad Romance (Official Choreo) is featured in the following Mashups:
Bad Romance (Official Choreo) is featured in Party Master Modes. Here are the captions attributed to his moves.
Bad Gaga
I'm A Bird
I'm Modern
That's Fashion
Trivia
General
Main article: Bad Romance#General
Routine
Bad Romance is the second song in the main series that has an official choreography, after Applause (Alternate) in Just Dance 2014. It is followed by Feel Special (Extreme Version) in Just Dance 2021.
The routine is claimed by Ubisoft to be the hardest choreography ever in the series when it is unlocked.
The menu square for is visible in the updated Just Dance Unlimited promotional video on Just Dance 2020, despite it not being available on Just Dance Unlimited.
In an Instagram story posted by Just Dance's official account to announce the availability of an one-month-long Just Dance Unlimited subscription, this routine's menu icon can be seen[3].
Gallery
Game Files
In-Game Screenshots
Promotional Images
Others
Videos
Gameplays
Extraction
References
v - e - d

Puppet/Party Master Modes
Community content is available under
CC-BY-SA
unless otherwise noted.