Remove the bandaids!

This article contains images or videos with watermarks. If possible, please replace them with non-watermarked media.
"Bailar" by Deorro featuring Elvis Crespo is featured on Just Dance 2017, Just Dance Unlimited, 舞力全开2017, and Just Dance Now.
Appearance of the Dancer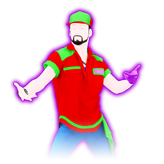 The dancer appears to be a gas station cashier. He has a black beard and wears a lime green cap, a red shirt with a green line, a purple tank top underneath, blue jeans, and green Converse sneakers. He stuffs a green car wash towel in his pocket early in the routine.
Background
The background is a gas station in a dry, rural land in the middle of nowhere that supposedly resembles Texas. The tires move to the beat of the song. The background also transitions to day and night as the song progresses.
Gold Moves
There are 2 Gold Moves in this routine, both of which are the same:
Both Gold Moves: Place your left arm under your right arm and freeze.
Community Remix
Bailar has a Community Remix launched on March 30th. At the same time, there are four dancers on the screen. Here are the dancers in order:
GamerAline118 (Brazil)
MoonAngel308 (Italy)
Rorschach_Zero (Mexico)
Minifigureman11 (UK)
Fabris Rere (Brazil)
ENZO MATRIXX (USA)
PUMPERBB69 (Mexico)
Celeste91 (Netherlands)
HIgordam (Brazil)
saulorion (Canada)
chibikurisutina (Brazil)
janeta29 (Mexico)
Moogly-H (Australia)
Raven5409232 (Hong Kong)
SweetishPlot940 (Spain)
Kubasaak (Czech Republic)
nathhv (Brazil)
Laurigual (Germany)
jojackmad (Canada)
NEHUEN-SOSA (Argentina)
julioeconomist (Brazil)
VimoiV2708 (Peru)
MarcioBrasil30 (Brazil)
mizubad (Slovak Republic)
WorldTube064 (Bulgaria)
TBoneTony00 (USA)
Dereck0811 (Mexico)
SabrinaRocket (Germany)
XxGenesisMCxX (Spain)
janineplayz (Germany)
Dusky Da IBest (Mexico)
DanPOP93 (Mexico)
zacchyzacchy (Australia)
vampire_94 (USA)
MuseLord (USA)
Pachirlsu92 (Argentina)
BlackMagic590 (USA)
East Ridge Elem (USA)
DankerRainbow (Mexico)
Of Hugo (France)
YOLOSOTRUE (USA)
SIVIOMango (Russia)
ExemptRuby51047 (Taiwan)
Alice123cha (Columbia)
RAS310 (USA)
dimOn19 (Russia)
ErickVal14 (Mexico)
lucasmciruzzi (Argentina)
Pariss Diane S (USA)
Alvaroll5858 (Chile)
Fanged Surpent (UK)
bencase (UK)
Lady In Black82 (Brazil)
FrenchtoastDan1 (USA)
LieutenatRice8 (USA)
VividestPine155 (Italy)
KingJulioGoes (Brazil)
lizalizalisa (Russia)
danielcerda (USA)
Domickgotfans (USA)
ChipperAce (Brazil)
OMr Larson0 (Russia)
nijishoujo (USA)
JD_Flo (France)
Julia Hazama 11 (Brazil)
claudiedance (Canada)
RAS310 (USA)
Rakso99c (Mexico)
Stroodie89 (USA)
SwankyYard7635 (Hong Kong)
Reviews2_0 (USA)
JLBalicia (Mexico)
OneTripod775025 (Spain)
urinyan (Japan)
RemissSand79663 (USA)
MCaleroJD2 (Columbia)
Appearances in Playlists
Bailar is featured in the following playlists:
Just Dance 2019
Just Dance Now
All About That Bass!
Crazy Carnival
Easy Peasy Party
Latin Corner
All Songs A-E
Solos
Just Dance Unlimited
Easy Peasy Party
Just Dance 2017
Latin Corner
Unlimited A-E
Trivia
General
Bailar is the nineteenth Spanish-language song in the main series.
The song title translates to "Dance".
The music video version of Bailar is used in-game.
This is the shortest song in Just Dance 2017, lasting 2 minutes and 43 seconds.
"Que la cosa" is misspelled as "Eh la cosa", "De abajo" is misinterpreted as "Deorro", and "Fachino poledance" is written as "She know how dance". "Ven conmigo" does not appear at all.
Classic
Bailar is one of the songs selected for the digital qualifications of Just Dance 2016 and 2017 World Cup.[2][3]
The avatar was initially supposed to have a blue outline instead of a purple one.[4]
The costume for Bailar was made in about four or five days.[5]
In a Beta preview found in the Just Dance Unlimited servers, the coach had more visible facial features, and the background has some minor differences.[6]

The files also contain a Beta menu color (medium blue-green instead of green), unedited menu assets and a different coach picture in the coach selection screen.

Two scoring detection files for the song are named "bailar_swiffer_fast.msm" and "bailar_swiffer_fast2.msm", in a reference to Swiffer, a brand of cleaning products.[7]
In the tutorial to learn the moves, You're On My Mind plays during the intro and in the two transition animations.[8]
The character's name was revealed in the Just Dance Class video for this routine by Cormier Claude: it is Miguel.
Community Remix
Gallery
Game Files
In-Game Screenshots
Beta Elements
See also: Just Dance 2017/Beta Elements#Bailar
Others
Videos
Official Music Video
Gameplays
Classic
Community Remix
Extractions
Others
References
Community content is available under
CC-BY-SA
unless otherwise noted.