Raise a Floppa - The Loop
Play Sound
"Bang" by Anitta is featured on Just Dance 2017, Just Dance Now, 舞力全开2017, and Just Dance Unlimited.
Appearance of the Dancer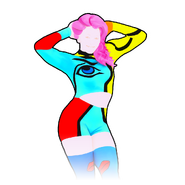 The dancer is a woman with pink curly hair that sits on her left shoulder. She wears a long-sleeved romper that exposes her midriff. The top half of her romper is cyan from her left breast to her right elbow and around her right wrist, and yellow from the left side of her chest down her entire left arm and around her top's collar. The top half also has a red stripe on her right arm from elbow to mid-forearm. There's a black curvy line around her left arm and one that borders between the cyan and yellow half of her top. On her right breast is a black feminine eye with a blue pupil, a black eyebrow, and a black line behind the eye resembling a crease. The bottom half of her romper is cyan down the middle, red down the right side, and yellow on the right. It also has black lines that divide the red, yellow, and cyan parts of it with an extra black line through the yellow part. The rest of her outfit consists of blue thigh-high socks with multiple red lips on them and yellow platform high heel booties with black polka dots and heels. She has an orange glove.
Background
The background is first seen to be a field of pink, yellow, green, and blue squares. A stick of red lipstick appears around frantically. Afterwards, some colored lips appear, which is a similar concept found in Problem and My Lips. Afterwards, a panel of feminine eyes with eye shadow, mascara, and eyebrow penciling appears on various different-colored squares, these squares being colored differently from the larger backdrops, which will vary in color. It is soon followed by pointed feminine hands and the word "bang". Underneath the colors are female heads and faces, which burst in the background along with lipstick and the "bang" panel. Next is a side view of a woman's face with yellow lipstick and a pattern of blue and pink. The pink panels flash red briefly. Shapes such as sprinkles, small and, big circles appear inside and are moving along in the pink panels only.
Gold Moves
There is 1 Gold Move in this routine:
Gold Move: Point your fingers to the sky while sticking your right leg out.
Bang appears in the following Dance Quest maps:
Bang is featured in the following playlists:
Just Dance 2019
Just Dance Now
Just Dance Unlimited
Trivia
Bang is the first song by Anitta in the series.
Bang is the fifth Portuguese-language song in the series.
In a Beta preview found in the Just Dance Unlimited servers, the background uses heavily different colors and animations.
The gameplay on Ubisoft Brazil's channel has a screenshot from the music video as the thumbnail.

This also happened in the previous upload on the Ubisoft Latino America's channel.
Additionally, the background seems to have different colors in the chorus.[2]

On October 25, 2016, Ubisoft Brazil shot a flash mob in Avenida Paulista (São Paulo), where many people danced to this routine.[3]
The outfit worn by this dancer makes an appearance in Natoo's music video for Je sais pas danser.
Ubisoft's Brazilian YouTube channel uploaded a video with Anitta talking about her music in the game.
The coach appears on a Black Friday promotion for Just Dance 2017.
Bang was one of the songs selected for the digital qualifications of Just Dance 2016 World Cup.[4]
In Just Dance Now, the pictograms, tracking and lyrics are out of sync with the dancer.
Gallery
Game Files
In-Game Screenshots
Promotional Images
Behind the Scenes
Beta Elements
Others
Videos
Official Music Video
Gameplays
Extraction
Others
References