Remove the bandaids!

This article contains images or videos with watermarks. If possible, please replace them with non-watermarked media.
"Bang" by Anitta is featured on Just Dance 2017, Just Dance Now, 舞力全开2017, and Just Dance Unlimited.
Appearance of the Dancer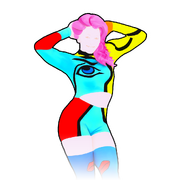 The dancer is a woman with pink curly hair that sits on her shoulder. She wears a red, yellow, and turquoise long sleeve shirt with a black feminine eye that has a blue pupil, red, yellow, and turquoise shorts, a blue thigh-high socks with red lips, and yellow and black polka-dot laced platform booties.
Background
The background is first seen to be a field of pink, yellow, green, and blue squares. A stick of red lipstick appears around frantically. Afterwards, some colored lips appear, which is a similar concept found in My Lips and Problem. Afterwards, a panel of feminine eyes with eye shadow, mascara, and eyebrow penciling appears on various different-colored squares, these squares being colored differently from the larger backdrops, which will vary in color. It is soon followed by pointed feminine hands and the word "bang". Underneath the colors are female heads and faces, which burst in the background along with lipstick and the "bang" panel. Next is a side view of a woman's face with yellow lipstick and a pattern of blue and pink. The pink panels flash red briefly. Shapes such as sprinkles, small and, big circles appear inside and are moving along in the pink panels only.
Gold Moves
There is 1 Gold Move in this routine:
Gold Move: Throw your hands up.
Bang appears in the following Dance Quest maps:
Appearances in Playlists
Bang is featured in the following playlists:
Just Dance 2019
The 2010s Were Banging
Girl Squad
Just Dance Now
Passport in a Playlist
All Songs A-E
Just Dance Unlimited
Passport in a Playlist
Just Dance 2017
All Songs A-E
Trivia
Bang is the first song by Anitta in the series.
Bang is the fifth Portuguese-language song in the series.
The gameplay in Ubisoft Brazil's channel has a screenshot from the music video as thumbnail.

This also happened in the previous uploaded on the Ubisoft Latino America's channel.
Additionally, the background seems to have different colors in the chorus.[2]

On October 25, 2016, Ubisoft Brazil shot a flash mob in Avenida Paulista (São Paulo), where many people danced to this routine.[3]
The outfit worn by this dancer makes an apperance in Natoo's music video for Je sais pas danser.
The channel of the Ubisoft Brazil's uploaded a video with Anitta talking about her music in the game.
Bang is one of the songs selected for the digital qualifications of Just Dance 2016 World Cup.[4]
In a beta preview found in the Just Dance Unlimited servers, the background uses heavily different colors and animations.
Gallery
Game Files
In-Game Screenshots
Promotional Images
Behind the Scenes
Beta Elements
Others
Videos
Official Music Video
Gameplays
Beta Elements
Others
References
Community content is available under
CC-BY-SA
unless otherwise noted.