Fire Emblem Warriors: Three Hopes - The Loop
Play Sound
"Barbra Streisand" (Extreme Version) can be redeemed for play on Just Dance 3 with a code.
Appearance of the Dancer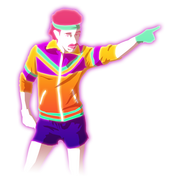 The coach is a man with long red hair and a purple mustache. He wears a turquoise head band, an orange sweater with purple and aqua stripes, purple shorts, green socks with a peach stripe and white and red shoes with purple laces. He has a pink outline.
Background
The background is a retro 80s beach. The background contains pink outlines, cyan palm trees and a purple-blue flamingo. There is a lime green line that separates the wireframe background with another background. The other said background contains blue and purple circles, and two red stripes. A half-shown triangle is represented in the right-side corner.
Gold Moves
There are 3 Gold Moves in this routine, all of which are the same:
All Gold Moves: Point up once with your right arm and point to the left twice with your left arm.
Barbra Streisand (Extreme Version) appears in the following Mashups:
Barbra Streisand (Extreme Version) appears in Puppet and Party Master Modes. Here are the captions attributed to his dance moves:
Free Style
Locking
No Straining
Techno Break
Techno Lock
Techno Slide
Techno Twitch
Barbra Streisand (Extreme Version) appears in the following playlists:
Just Dance 3
Trivia
General
Main article: Barbra Streisand#General
Routine
Barbra Streisand (Extreme Version) is the first routine in the main series that has to be unlocked through a specific code.

The code is in the buttons of the controller of the console and the order of how they are pressed. The pattern is "up-up-down-down-left-right-left-right".
This unfortunately is not possible on the PlayStation 3 version of the game due to the lack of a D-pad on the PlayStation Move. For whatever reason, the PlayStation Move Navigation controller or the DUALSHOCK 3 SIXAXIS controller's D-pads don't work.
This code is also known as the famous Konami Code, a code used in various Konami games as a way to get extra lives or extra content.
This code can also be entered in the main menu of Just Dance: Best Of and Just Dance: Greatest Hits, even though the routine itself is not available. This is likely left over due to the fact the engine is based off of Just Dance 3.

The gameplay teaser misspells the track as "Barbra Streisand", and the description of the teaser misspells it as "Barbara Streisand".
The coach messes up on Gold Move 3 by pointing left once.
Barbara Streisand (Extreme Version) is the first extreme version in the entire series.
The coach makes an appearance in the background of You Can Dance as a framed picture at the bottom right.
There is one part of the song where the coach does lengthy fast-paced breakdancing and arm-swaying, however the whole part is not credited to your score for unknown reasons.
Gallery
Game Files
In-Game Screenshots
Others
Videos
References
v - e - d

Puppet/Party Master Modes