"Barbra Streisand" (Extreme Version) can be redeemed for play on Just Dance 3 with a code.
Appearance of the Dancer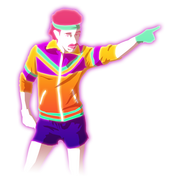 The coach is a man with long red hair and a purple mustache. He wears a turquoise head band, an orange sweater with purple and aqua stripes, purple shorts, green socks with a peach stripe and white and red shoes with purple laces. He has a pink outline.
Background
It contains silhouettes of a beach with flamingos, colorful palm trees and stripes that glow. It has a very similar appearance to the background from Mr. Saxobeat.
Gold Moves
There are 3 Gold Moves in this routine, all of which are the same:
All Gold Moves: Point up once with your right arm and point to the left twice with your left arm.
Barbra Streisand (Extreme Version) appears in the following Mashups:
Barbra Streisand (Extreme Version) appears in Puppet and Party Master Modes. Here are the captions attributed to his dance moves:
Free Style
Locking
No Straining
Techno Break
Techno Lock
Techno Slide
Techno Twitch
Barbra Streisand (Extreme Version) appears in the following playlists:
Just Dance 3
Trivia
General
Main article: Barbra Streisand#General
Routine
Barbra Streisand (Extreme Version) is the first routine in the main series that has to be unlocked through a specific code.

The code is in the buttons of the controller of the console and the order of how they are pressed. The pattern is "up-up-down-down-left-right-left-right".
This code is also known as the famous Konami Code, a code used in various Konami games as a way to get extra lives or extra content.
This code can also be entered in the main menu of Just Dance: Best Of and Just Dance: Greatest Hits, even though the routine itself is not available. This is likely left over due to the fact the engine is based off of Just Dance 3.

The gameplay teaser misspells the track as "Barbra Streisand", and the description of the teaser misspells it as "Barbara Streisand".
The coach messes up on Gold Move 3 by pointing left once.
Barbara Streisand (Extreme Version) is also the first extreme version in the entire series.
Gallery
Game Files
In-Game Screenshots
Others
Videos
References
v - e - d

Puppet/Party Master Modes
Community content is available under
CC-BY-SA
unless otherwise noted.