Roblox: DeepWoken - The Loop
Play Sound
"Beginner" by AKB48 was planned to be on Just Dance Wii 2 but was scrapped for unknown reasons.[1]
Appearance of the Dancer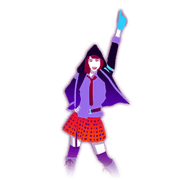 The coach is a woman with deep raspberry hair in a bob cut. She wears a periwinkle custom made uniform top, which has an extended part on the left side. The uniform contains a deep raspberry tie and belt with a cyan buckle, with parts of the belt hanging loose on the left side of her outfit. She also wears a deep violet open hooded jacket, with periwinkle accents and two cyan bands on the right arm, a red plaid skort (combination with a skirt and shorts), periwinkle and deep violet striped knee-high socks and periwinkle knee-high heeled boots tied with deep violet laces. She has a thin pink outline.
Background
From what can be seen from the leaked clip, the entire background sets in a handheld gaming console, which has black arrows and red and blue buttons. The rectangular screen focuses on the background, which is mainly white, with grey outlines of squares seen slowly spinning. The outlines also intersect with each other, forming geometric shapes. The background also features grey squares moving around and merging together. In certain parts of the routine, the background "breaks" along with the squares before fixing the damage. Throughout the routine, the dancer is accompanied with four female background dancers, who wear identical outfits with the main coach and have a pink-cyan gradient.
At the end of the routine, numerous smaller grey squares explode while the background dancers disappear, with high scores in pink and cyan text appearing above in their place. The main dancer fades out in a glitchy fashion and the gaming console turns off.
Gold Moves

This section has content which remains to be confirmed! You can help by adding to it. Remember to cite!

Trivia
General
If Beginner was added, it would've been the third song by AKB48 in the series.
Routine
The background is inspired by the music video for the song.

The pose in the coach selection was also used for the beginning of the music video.

Brief snippets of the routine were found in Matthieu Petit's showreel on Vimeo.[2]
There is an error at the end of the routine; where at the ending pose; the coach's skirt loses its detail.
The coach selection has a light periwinkle outline instead of a pink outline used in the routine.
Gallery
Videos
References