"Birthday" by Katy Perry is featured on Just Dance 2015, 舞力全开2015, Just Dance Now, and Just Dance Unlimited.
Appearance of the Dancer
Classic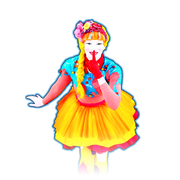 The dancer is a woman wearing a birthday/sweets-schemed costume. She is wearing a pink and sky blue top with sprinkles, a yellow and pink layered skirt, yellow polka-dot stockings with pink cupcake prints, and blue high heeled boots. She has long marigold hair tied in a ponytail braid and is wearing a floral wreath made of teddy bears and button flowers. She is wearing very heavy makeup consisting of blusher and eyeliner.
World Dance Floor VIP
The dancer is the performer of the classic routine, Aurélie Sériné. She is wearing a white bralette with a sweatshirt tied around her waist. She is also wearing waist high black pants with white sneakers.
Background
The background has a pastel scheme. There are also pictures of cake and confectionery appearing. The cake reads "Birthday". It is supposed to give the dance a birthday feel. You can see many macaroons around and you can also see them with candles lit.
Gold Moves
Classic
There are 5 Gold Moves in the Classic routine:
Gold Moves 1, 3, 4, and 5: Throw both of your arms up in the air while you lift up your right leg.
Gold Move 2: Jump up with your legs fully up and hold both hands out as if you were confused.
Mashup
There are 2 Gold Moves in the Mashup, both of which are the same:
Both Gold Moves: Open your arms. (Part Of Me) (Note)
Birthday has an unlockable Mashup with the theme "Best of Katy" and only features dancers from Katy Perry songs.
Dancers
[GM#] - indicates a Gold Move. The # refers to the Gold Move's number.
Birthday
I Kissed a Girl
Part of Me [GM1]
Dark Horse (P2/C2)
Waking Up in Vegas
California Gurls
Teenage Dream
Firework
I Kissed a Girl
Part of Me [GM2]
E.T
Birthday
Part of Me
E.T
Teenage Dream
Firework
Hot N Cold
California Gurls
I Kissed a Girl
Birthday
Party Master Mode
Birthday has a Party Master Mode available. Here are the captions in order of appearance. (Captions in bold indicate a Song Switch.)
Birthday has a Community Remix. The following are featured:
JinxyPeach [USA]
JulioCesarBrasi [Brazil]
rfmckinleyport [Brazil]
AzoozHunaiyyan [USA]
Lizergieskal [Greece]
Lathia [Germany]
Navya03 [USA]
Leticia___Faria [USA]
robertokirby386 [USA]
ZillyZucchhini [USA]
clem12389 [France]
Charell3 [USA]
Ivan Eduh [Brazil]
Kondzix06 [Poland]
Pinkgoth1 [UK]
Francision69 [USA]
MohammedAlsaif [USA]
jaulea1 [USA]
Facchi [Brazil]
LG4907 [USA]
mzmpicchiatti [Mexico]
EdherThulio [Brazil]
Moogly-H [Australia]
AG_Butterfly [Russia]
klakisyanyan [Mexico]
ourifia alibi [France]
Birthday appears in the following Mashups:
Birthday appears in Party Master Modes. Here are the captions attributed to her dance moves:
Birthday appears in the following Dance Quest maps:
Birthday is featured in the following playlists:
Just Dance Now
Easy Peasy Party
Hall Of Fame
All Songs A-E
Trivia
General
Birthday is the tenth song by Katy Perry in the Just Dance series.
Just Dance 2015 came out in October, either on October 21 or 23, just days before Katy Perry's birthday on October 25.
The song was revealed in Just Dance 2015 ESRB's rating summary. The following three lines are referenced as suggestive:[1]

"Pop your

Pérignon

"
"So let me get you/In your

birthday suit

"
"Boy when you're with me/I'll give you a

taste

"
Classic
Unlike other dancers with makeup, this coach's makeup is clearly visible.

This can be seen again on Into the Unknown, which the performer of the song also did.

The coach's skirt sometimes gets in the way.
The dancer lip syncs "Happy Birthday" every time the line is sung.
When unlocking the avatar for this song after playing it, the lipstick is absent. However, when one looks at it in the Avatar Shop, the lipstick appears.

This also happens with Cool For The Summer's avatar on seventh generation console versions of Just Dance 2016, as the collar is purple when unlocking it, while in the avatar shop, the avatar has a golden collar with spikes.

There was a VIP on the World Dance Floor named Aurélie during most of November 2014. Players could dance with her while this song was played on the World Dance Floor. As of January 2016, it came back.
In the preview video, the arrows for the pictograms were dark pink, despite the glove being red.
This song won in the Favorite Choreo category on the second Just Dance Awards. [2]
In some Beta gameplay snapshots, the coach appears to have a blue glow instead of a solid border like in the final version.

In others, the coach's outline is orange instead of blue.

This is one of the songs selected for the Just Dance 2015 World Cup.[3]
The dancer was used as a promotional figure for E3, in spite of the routine being revealed later.
Birthday was used by Just Dance to celebrate National Dessert Day 2015 on Twitter.[4]
The Classic routine is affected by a bug: sometimes, a black screen covers everything but the GUI. [5]
From June 3, 2016, to June 6, 2016, the song was free on Just Dance Now due to Donut Day.[6]
The background is recycled in Oishii Oishii.
The background was used in a promotion for Ubisoft's new logo.[7]
On Just Dance Now and Just Dance Unlimited, the B for "birthday" in the line "Happy birthday" has been capitalized as of an unknown date.
The routine is used in the June 2018 version of the Just Dance Now tutorial screen.
Mashup
The Mashup for this song only features other songs by Katy Perry. The dancers for all the songs by Katy Perry, except Roar, are featured in the Mashup.

This is the first time a dancer from any non-Solo routine (in this case, a Trio) is used as a Solo dancer (the lead coach from Dark Horse).
Also, this is the only Just Dance 2015 Mashup that features at least one coach from every game of the main series.

This is one of six songs to have a Best Of Mashup, along with 4x4, Maps, I Love It, Never Can Say Goodbye, and Boys (Summertime Love).
Birthday's Mashup does not have the Gold Moves from Part Of Me on the PS4.
Birthday and Love Is All are the only Just Dance 2015 Mashups to feature the Classic routine's dancers in the middle of the Mashup, as opposed to only at the start and end.
The fading effect is not used during the transition from I Kissed a Girl to Hot N Cold.
Party Master Mode
VIP
In the VIP, the balloons can be seen glitching out.
Gallery
Game Files
In-Game Screenshots
Beta Elements
See also: Just Dance 2015/Beta Elements#Birthday
Others
Videos
Official Music Video
Gameplays
Classic
Others
Extractions
Classic
References
v - e - d

Puppet/Party Master Modes
Community content is available under
CC-BY-SA
unless otherwise noted.