"Blame" by Calvin Harris featuring John Newman is featured on Just Dance 2016, Just Dance Now, and Just Dance Unlimited.
Appearance of the Dancer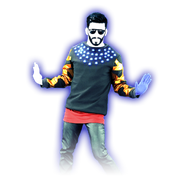 The dancer is a man. He has black hair and a black beard. He wears black sunglasses, a black crew-neck sweatshirt with gold sleeves and blue rhinestones, a red shirt under the sweater, dark blue jeans, and blue-grey ankle boots.
Background
The background is seen as a hallway which has many triangles and lines. These triangles form to the sides together. Lines shoot out from the sides of the dancer during the instrumental part, and he is seen shooting triangles. The triangles turn from red to blue during the chorus.
Blame has a Mashup with the theme Sunglasses which can be unlocked for 1000 Mojo Coins (or 20 Mojo Coins for the Wii). It features dancers wearing sunglasses or other types of eyeglasses.
Dancers
[GM#] - indicates a Gold Move. The # refers to the Gold Move's number.
Love Me Again
Stadium Flow
Summer [GM1]
Love Me Again
Party Rock Anthem (Remake)
Love Me Again
Party Rock Anthem (Remake)
Sexy And I Know It
We No Speak Americano
I Love It
Summer [GM2]
Sexy And I Know It
Love Me Again
Summer
Stadium Flow
Sexy And I Know It
Summer [GM3]
Summer [GM4]
I Love It [GM5]
Gold Moves
Classic
There are 2 Gold Moves in this routine:
Gold Move 1:Put your arms down and put down and put your head down as if u banged it on a table
Gold Move 2:Jump over a hurdle

Mashup
There are 5 Gold Moves in the Mashup:
Gold Moves 1 and 2: Touch your left leg with your right hand with force while kicking behind. (Summer)
Gold Moves 3 and 4: Move your right hand quickly in a semi-circle going to the right. (Summer)
Gold Move 5: Put your arms behind your head in frustration while turning half clockwise. (I Love It)
Blame appears in the following Dance Quest maps:
Blame is featured in the following Mashups:
Blame appears in Party Master Modes in Just Dance 2016. Here are the captions attributed to his dance moves:
Cool Attitude
Elbow Dance
Blame is featured in the following playlists:
Just Dance 2019
Hey, Handsome
The 2010s Were Banging
Just Dance Now
All Songs A-E
Hall Of Fame
Neon Parade!
Solo
Just Dance Unlimited
All Songs A-E
Hall Of Fame
Just Dance 2016
Solo
Trivia
General
Blame is the fourth song by Calvin Harris in the series.

It is also the second song by John Newman in the series.

In an early version of the game seen at the E3, the line "To let her through the door" was incorrectly written as "Too little to the dawn".
Blame was played during the play-off of the Just Dance World Cup 2015.[4]
In the servers of Just Dance Unlimited, a test Star Remix/VIP can be found featuring an Ubisoft employee dancing to the routine.[5]
Routine
The dancer was teased through a silhouette posted on Facebook.
Blame has a different design on his appearances on the beta designs for the PAL box art: his glove was yellow instead of blue, his hair was brown instead of black, his beard was shaped differently, his sunglasses exposed his eyes more, his shirt had buttons instead of rhinestones, and his pants were black instead of blue.

As of October 2015, the covers were updated to match his actual in-game design.

In a Behind-the-Scenes footage, Thibaut Orsoni is seen dancing to the routine without the costume, which means he was likely projected to be the performer. However, the final performer for this dance is Andrea Condorelli.[citation needed]
An effect from #thatPOWER (Extreme Version) and Wild is reused when a silhouette of the coach shoots out of him.
As evidenced by the Just Dance Now files, Gold Move 2 was not intended to be a Gold Move.
The demo version of Just Dance 2016 includes only Blame.[6]
Blame is the second track on Just Dance 2016 to be released on Just Dance Now before the release of the game, after The Choice Is Yours.[7]
The coach appears in the "Dance Party" icon in Just Dance 2016, along with some other dancers from the game.
Mashup
Blame (Mashup) is the only Mashup in Just Dance 2016 where Party Rock Anthem has his remade look instead of his original look.
The Mashup theme was later reused for Cheap Thrills (Mashup).
Gallery
Game Files
In-Game Screenshots
Promotional Images
Behind the Scenes
Beta Elements
Others
Videos
Official Music Video
Gameplays
Classic
Mashup
Others
References
Community content is available under
CC-BY-SA
unless otherwise noted.