Raise a Floppa - The Loop
Play Sound
"Build a B****" by Bella Poarch is featured on Just Dance 2022 and 舞力无限.
Appearance of the Dancer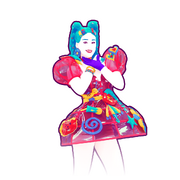 The dancer is a woman. She wears a reddish pink-plastic dress with some party related stickers. She also wears reddish pink boots with purple socks, a pink/red lipstick, black makeup and has light-blue eyebrows. She wears a purple glove in the right hand and a gold bracelet. She also has dark blue earrings and also turquoise hair in braided pigtails. Toys, candies, and random stuff can be seen in her dress.
Background

This section is a stub. You can help by adding to it.
The background has blueprints of three inventions of a hedgehog, a bear with a rocking horse, aircraft with a duck that is attached to a spring, and an offly wierd donut stacking toy. Colors transitions to yellow, pink and teal. The toys at the beginning have looks of a hologram. A pixel heart (500px), flowers with writing FIG 2, FIG 3 and FIG 1 (in order from top to bottom), semi donut shaped springs and code numbers such as aircraft (J74U28S74T34D, NO. 2022-B1), bear (J74U28S74T34D, NO. 2022 - B2) and hedgehog (J74U28S74T34D, NO. 2022 - B3) can be seen.
Gold Moves
There are 2 Gold Moves in this routine:
Gold Move 1: While leaning forward, draw a semicircle with both of your hands, from downwards to the side.
Gold Move 2: Bend and put your hands together below your face.
Trivia
Bella Poarch and Olivia Rodrigo are the first two non-Ubisoft-affiliated artists to make their debut appearance in Just Dance in the same year their respective debut singles were released.
Build a B**** is the eleventh song in the series by an Internet personality.
The clean version of the song is used, where "b****" is changed to "babe". Additionally, "ass" (changed to "butt" in the clean version) and "boobs" are censored. However, the word "b****" is still used in the in-game title, thus making Build a B**** the first song in the series to have a censored word in the title.
A redundant "the" is added in the line "The boys are always playing dolls".
Whenever "Build a babe" is sung, the lyric is highlighted in sync with the backing vocals instead of the main vocals.
Build a B**** is the shortest routine in Just Dance 2022, at a length of 2:08.
A thirty-second snippet of a different choreography was posted by Just Dance's official TikTok account to promote GivingTuesday in partnership with The Trevor Project.[2][3] The routine was created specifically for the event and is referred to as "Bella's Version", thus being the second Just Dance map not to be intended for a specific game, after Daddy Cool's contest routine.[4]

TikTok's official clean version of the song is used, in which "butt" is not censored.
As part of the event, both Just Dance and Bella Poarch each donated US$50,000 to the Trevor Project.[4]
Gallery
Game Files
In-Game Screenshots
Promotional Images
Others
Videos
Official Music Video
Gameplay
Extractions
Others
References