Raise a Floppa - The Loop
Play Sound
"Burn" by Ellie Goulding is featured on Just Dance 2015, 舞力全开2015, and Just Dance Unlimited.
Appearance of the Dancer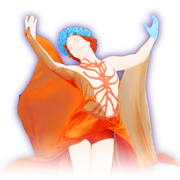 The coach is a woman with short dark orange hair. She wears a headband with light blue flowers, a white tank top (which is very difficult to see to make her look like she is seemingly topless) with a bright orange crest on it which glows up sometimes, orange shorts with a long flowing skirt attached with shades of orange, and a pair of orange sandal high heels. At parts of the song, the dancer turns black and inverts her colors.
Background
The routine takes place in rocky valley during a starry night with mountains showing on the back, and candles appearing on the floor and mountains and has clouds in the sky. Three crystal-balls can be also seen completing the floor pattern with the candles. Mist can also be seen on the floor. At some points, the stars in the background turn into shooting stars. During the bridge, a golden, vine-like shape appears on the back of the coach that lights up.
Gold Moves
There are 4 Gold Moves in this routine:
Gold Moves 1, 2, and 3: Swing both of your arms from left to right in a 180 degree motion.
Gold Move 4: Take both of your arms from the previous position and quickly move them to the opposite sides. 
Burn has a Community Remix. The following are featured:
Sync Vodka [Canada]
ericjs1 [USA]
susie slaytanic [USA]
JHONYSUTRA [Brasil]
rackup24 [USA]
Frozen San [UK]
cramuliche [Brasil]
Viral Ghost [Canada]
RODRIGOBROC [Brasil]
dangomx jr [Mexico]
Deh XG [Brasil]
LIL LA DANSEUSE [Canada]
AdamDance485 [Poland]
O I OmaR [France]
melonetta [Hong Kong]
OriginalMNH [South Africa]
YatzaBurgos06 [Mexico]
gugacobow [Brasil]
Gabi3003 [Brasil]
GiannisInLove [Greece]
PrincessZie [Canada]
viniciusfmoraes [Brasil]
HandicapBubbles [USA]
Mnwalker81 [USA]
morales360bkn [Chile]
GabeKahn [Brasil]
WoodElf27 [USA]
parkus95 [France]
Davidrocklee [Brasil]
Ferch12 [Mexico]
Burn is featured in the following Mashup:
Trivia
General
Burn is the second song by Ellie Goulding in the series.
"Hell" is censored.
Ubisoft used to tease songs that would be featured in the next Just Dance game before their confirmation by posting pictures that are shadows of dancers. When the link was clicked people would be directed to the official Just Dance game site. Every link had a marker - the link from teasing picture of Burn had this one: ?utm_campaign=dm_9Jun2014_jd2015_e3trackteaseburn - the end of this marker made this song leaked.
Burn was the first song to be announced for Just Dance 2015, being announced along with the game itself.
Burn is one of the songs selected for the Just Dance 2015 World Cup.[2]
Files for an unused Party Master Mode can be found among data for Just Dance 2015.[3]
Routine
During the bridge, the coach's glove disappears.
The promotional image of the coach features her glove on her left hand.
A placeholder menu banner can be found in the Just Dance Unlimited servers.[4]
Gallery
Game Files
In-Game Screenshots
Promotional Images
Beta Elements
Others
Videos
Official Music Video
Gameplays
Classic
Others
Extractions
References
v - e - d

Puppet/Party Master Modes