"Buscando" (Extreme Version) is playable on Just Dance 2021. The routine can be unlocked by scoring Superstar or higher on Buscando (Classic).
Appearance of the Dancer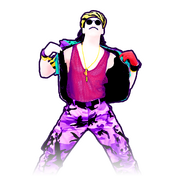 The dancer is a man. He has shoulder-length black dreadlocks under a yellow tiger striped cap. He also has a full black mustache and black circular sunglasses. He wears a hot pink mesh tank top with an turquoise vest over top. The vest is covered in a violet animal print and many violet pockets. It has two light purple patches with geometric symbols, similar to the ones seen on the classic dancer's outfit. He also wears monochromatic purple camouflage cargo pants and lime green boots. A black belt with a violet buckle is worn around his waist. There is a yellow tiger print bandana tied around his left forearm. He accessorizes with multiple gold dog tag necklaces and dark purple wrist straps with gold chains on both wrists. His glove is red and there is a solid black and white outline around the dancer.
Background

This section is a stub. You can help by adding to it.
The background is a kaleidoscope of the Classic routine. It features the same elements as the Classic routine as well.
Gold Moves
There are 2 Gold Moves in the routine:
Gold Move 1: With your body facing the left, quickly bring down your right hand diagonally to the left.
Gold Move 2: Do a spinning jump to the left with your arms stretched at an 180° angle.
Trivia
General
Main article: Buscando#General
Routine
Buscando (Extreme Version) was the first Alternate routine to be revealed for Just Dance 2021.
The routine's preview had the frame rate of its video file drop.
In the preview uploaded to the Just Dance channel, the outro was shortened.
One pictogram's filename has the word "crouch" misspelt as "crounch."[2]
The map background is represented as a square.
Gallery
Game Files
In-Game Screenshots
Promotional Images
Others
Videos
Gameplay
References
v - e - d

Puppet/Party Master Modes
Community content is available under
CC-BY-SA
unless otherwise noted.