Dead Cells Final DLC - The Loop
Play Sound
"Can't Hold Us" by Macklemore & Ryan Lewis featuring Ray Dalton is featured on Just Dance 2014 as a downloadable track. It was also supposed to be featured on Just Dance Now, but it was removed before the release of the game.[1]
Appearance of the Dancer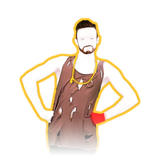 The dancer is a male with dark brown hair and a beard, who changes into three different outfits in the routine.
C1
The first outfit is a brownish maroon vest top with holes in it. There are also black ripped jeans, black boots, and two gold chains around the dancer's neck.
C2
The second outfit is a pirate outfit with a large red captain's jacket with straps. The dancer is with an orange-yellow shirt under it. The jeans and boots are the same. The dancer also has a pirate hat and gold bangles on the same wrist as the glove.
C3
The final outfit is the first outfit with a large fur coat and a coonskin cap. The outfit has a strong resemblance to Macklemore's outfit from the Thrift Shop music video.
Background
The backgrounds are very colorful and bright. It starts off with a turquoise backdrop with added items as the dance proceeds. These items include clouds, mountains, cacti, a flamingo wearing a cowboy hat, a red car, and a fruit smoothie with a fish in it. They move along to the beat of the song. Once changed to the pirate outfit. It is a red sunset backdrop with clouds. The final scene shows a flag with the words The Heist at the top left, with trombones in front of the flag that go along with the song.
Gold Moves
There are 5 Gold Moves in this routine:
Gold Move 1: Swing your arm.
Gold Moves 2, 3, and 5: Cross your arms.
Gold Move 4: Stick your right hand up in the air and shake your fist while you hold out your left arm.
Can't Hold Us is featured in Party Master Modes. Here are the captions attributed to his dance moves:
I'm Out
It's Me
Pirate's Bow
Push The Boundaries
Respect
T-Pose
Trivia
Can't Hold Us is the first song by Ray Dalton in the series.
"Pimp", "s**t" and "damn" are censored.
Can't Hold Us, Wake Me Up, and Pound The Alarm (Extreme Version) were the first downloadable tracks to be released for Just Dance 2014.
Can't Hold Us was available for free for the Uplay members who did a poll, where they were asked to choose between this song and Wake Me Up. Wii users received a gift card for 300 Wii Points and were able to choose any of the downloadable tracks.[2]
This song is shortened by 30 seconds in-game.
Gallery
Game Files
In-Game Screenshots
Promotional Images
Beta Elements
Others
Videos
Official Music Video
Gameplay
Extractions
References