"Chick Chick" ("小鸡小鸡") by Wang Rong Rollin (王蓉) is featured on 舞力全开:活力派.
Appearance of the Dancer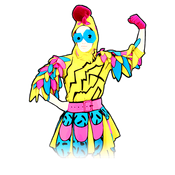 The dancer is a woman wearing a hooded-chicken costume, along with an eye mask resembling a pair of large cartoonish chicken eyes. The costume consists of some patterns and some feathers in different colors such as pink, yellow, and light blue, along with a pink belt, yellow pants with black lines on them, and blue shoes. He also has a black and white outline that is in full opacity.
Beta
The dancer is wearing a blue eye mask. He is dressed in a chicken costume with feathers which are colored yellow, red, and blue. The dancer also wears a pair of long, dark blue socks and a pair of feathery yellow boots. Along with the final dancer, he has a black and white full-opacity outline.
Background
The background is about many colored squares containing animals which sing when their sound is mentioned in the song, and there are rectangles that contains animals. During the chorus, the background changes to a farm containing the animals that have appeared before the chorus. When the coach "runs", the background zooms into another part of the farm.
Gold Moves
There are 3 Gold Moves in this routine.[2]
Gold Moves 1 and 3: Rotate your arms clockwise while stomping your right foot.
Gold Move 2: Put your arm up as if you were flexing your muscle.
Trivia
The song has been extended by combining the two different versions of the song into one.
The coach's glove tends to constantly glitch to white, yellow and dark blue.
In the files of the game, the coach was seen with a totally different outfit, and he performed some moves in a different way. Also, the coach was a male in the beta. It's unknown why it was scrapped.

In addition, the Beta gameplay from the files didn't have the chicken sounds at the beginning (before the coach comes out of the egg) and the scream at the end (when the rocket starts flying).

The Beta gameplay also featured many different pictograms and 4 Gold Moves instead of 3: the first 3 ones were the same ans 1 and 3 in the final version, and the last one is the final move of the routine.[3]

This is the second Chinese-language song to be available in 舞力全开:活力派, after Summer Sweetie. However, this one is currently VIP-only.
In the game files, the final gameplay in dash.justdancenow.com style has pictograms with default colors, and the Beta pictogram 6 in the gallery below appears.[4]
In the line "谁偷了我的 歘米?" ("Who stole my rice?"), the question mark is absent and the character "

歘

" is written in Latin alphabet.
Chick Chick was released on the game to celebrate the Chinese New Year.[5]
Gallery
Game Files
Screenshots
Behind the Scenes
Beta Elements
Others
Videos
Official Music Video
Gameplays
Extractions
Others
References