Remove the bandaids!

This article contains images or videos with watermarks. If possible, please replace them with non-watermarked media.
"Circus" by Britney Spears is featured on Just Dance 2016, Just Dance Now, and Just Dance Unlimited.
Appearance of the Dancers
Classic
The routine is performed by an all-female dance crew who wear circus-related fashion.
P1
P1 is a clown. She has a light blue and lavender Afro, heavy black eyeshadow, a red neck ruff, a lavender/light blue clown outfit with a red midsection, leg suspenders, lavender leggings with red polka dots and black high heel boots, and an arm covering representing the glove.
P2
P2 is the feline tamer or woman dressed as a cat. She is seen wearing a black ponytail with cat ears and red face paint. She has a red tiger-pattern one-piece suit with the left leg off. She has red high heels on.
P3
P3 is a harlequin or a jester. She has an orange bob with a mini witch hat with a large yellow cotton ball. Over her left eye there is blue face paint in the shape of a diamond. She has a yellow-and-blue diamond pattern outfit. She has red pants on with a blue left leg, and a yellow right leg. She wears black high heel boots.
P4
P4 is the ringleader. She has dark curly hair and wears a black top hat. She has a long black coat on over a black bra. She has black high waisted short shorts on. If seen in large high def images, she wears fishnet tights. She also wears strapped-on high heels.
Extreme Version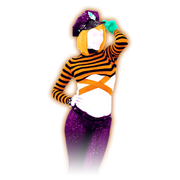 The Extreme coach is a woman. She wears glittery purple pants with black high heels. She wears a long-sleeved crop top with orange and black stripes and orange straps. She has blonde hair, which is neck-length. She also wears a purple glittery police hat.
Background
Classic
The routine takes place on what looks like a circus stage. There are multiple spirals on the floor that starts out pink in the bridge but turns red during the chorus. During the rest of the song, it is purple with blue circles. When the dancers move around the stage to change positions, the spirals move with them as well. The platforms behind the dancers also light up sometimes in tune with the beat. Flames can be seen in the background when the word "circus" is sung. At the same time when it is said, the very back of the stage lights up to reveal the word "Circus".
Extreme Version
The routine takes place on a stage with several red lights which can be seen throughout most of the verses. The background also changes to pink and fuchsia with the addition of some pink smoke. During the chorus, the stage becomes red with a triangle showing the dancer performing in the middle.
Circus has a Mashup with the theme Show-Off, which can be unlocked for 1000 Mojo Coins (or 20 Mojo Coins for all old-gen consoles). It features dancers perceived as performers.
Dancers
[GM#] - indicates a Gold Move. The # refers to the Gold Move's number.
Beauty And A Beat [GM1]
Beauty And A Beat [GM2]
My Main Girl
Just Dance [GM3]
Beauty And A Beat
Walk This Way (Old School) [GM4]
Beauty And A Beat [GM5]
Walk This Way (Old School)
My Main Girl
Just Dance [GM6]
Walk This Way (Old School)
My Main Girl
Beauty And A Beat
My Main Girl
Just Dance
Gold Moves
Classic
There are 4 Gold Moves in the Classic routine:
Gold Moves 1 and 3: This Gold Move is a right-to-left Wave Gold Move.
P4: Raise your right arm and hold your waist with your left one.
P3: Bring your right foot one step forward and at the same time, point towards P4 with your left hand and cover it with your right one, creating the same shape.
P2: Bring your right foot forward, unbent while squatting and at the same time, make a tiger's-claws-like movement with your hands.
P1: Open your legs slightly and at the same time, hold your right hand next to your head's right side and your left hand next to your torso's left side, in a way that your wrists will face each other diagonally.
Gold Move 2:
P1, P2, and P3: Strike your right hand at an angle towards the right.
P4: Crack a whip.
 
Gold Move 4: It is similar to the first Gold Move but is done together. Also, P3 bends her right leg and P4 leans back. This is the final move of the routine.
Extreme Version
There are 3 Gold Moves in this routine, all of which are the same:
All Gold Moves: Jump in the right and at the same time, raise your right hand and hit and then lower it and do the same with it facing the ground.
Mashup
There are 6 Gold Moves in the Mashup:
Gold Move 1: Right arm moves forward and down slowly. This is the second move of the Mashup. (Beauty And A Beat)
Gold Moves 2 and 5: Arms bounce outward. (Beauty And A Beat)
Gold Moves 3 and 6: Put your right hand over your right eye. (Just Dance)
Gold Move 4: When you're on your knees jump up and point to the screen. (Walk This Way (Old School))
Circus appears in the following Dance Quest maps:
Classic
Extreme
Appearances in Playlists
Circus is featured in the following playlists:
Classic
Just Dance 2019
The 2010s Were Banging
Girl Squad
Just Dance Now
Celebrate Fasion Week!
Hall Of Fame
All Songs A-E
Don't Stop Dancing!
Just Dance Unlimited
Celebrate Fasion Week!
Hall Of Fame
Unlimited A-E
Just Dance 2016
Extreme Version
Just Dance 2019
Just Dance Now
Extreme
All Songs A-E
Pump up the Adrenaline!
Just Dance Unlimited
Extreme
Unlimited A-E
Just Dance 2016
Trivia
General
Circus is the fifth song by Britney Spears in the series.

However, it is the first song to not be covered.

Oops!...I Did It Again, was referenced by Alkis in the Behind-the-Track interview for this song after a man yells out that somebody stole the costumes, and he starts singing the song.
Circus's "Behind the Track" interview is the fifth to have Alkis wear something related to the routine, the other songs are I Gotta Feeling, Let's Groove, Fancy, and Boys (Summertime Love).
Classic
Circus is the third Dance Crew to be associated to a song by Britney Spears, after Baby One More Time and Oops!...I Did It Again.
Some of the choreography is taken from the music video.
According to the Behind-the-Track interview with Alkis and Veronique, the Classic coaches are respectively named "Badass Clown", "Feline Tamer", "Romantic Harlequin" and "Ringmaster Madame Loyal".[8]
P1 was teased on Facebook through a colored silhouette.
P3's avatar has red hair, although the coach actually has orange hair.
P4's left eye glitches blue numerous times.
All four of Circus' coaches appear at E3 during Just Dance 2017's segment while performing Don't Stop Me Now.
P1 appears in the background of Fire as part of the character selection screen.
In Just Dance 2019, Circus is featured in the playlist "The 2010s Were Banging", despite the song being released in 2008.
Extreme
In the square and the coach selection images for the extreme version, the dancer's glove is more green than cyan.
The Vogue and Whack steps are danced in the Extreme version of the song.
Circus (Extreme Version) was played during the Grand Final of the Just Dance World Cup 2015.[9]
Mashup
The second time Walk This Way (Old School) appears, she appears bigger in size than her other appearances in the same Mashup.
The dancer from Don't You Worry Child blends into the background, barring his glove, due to the structure of his design.

Also, What About Love is in his second color scheme while performing a part that he performs in his first color scheme in the original routine. However, the pictogram remains the same.

Circus' Mashup ties with Chicken Payback, S.O.S, and Bad Romance (Mashup) for the earliest appearance of a Gold Move in a routine in the main series.
Gallery
Game Files
In-Game Screenshots
Promotional Images
Behind the Scenes
Others
Videos
Official Music Video
Gameplays
Classic
Extreme Version
Mashup
Extraction
References
v - e - d

Puppet/Party Master Modes
Community content is available under
CC-BY-SA
unless otherwise noted.