No Man's Sky Update - The Loop
Play Sound
"Cosmic Party" by Tom Salta[1] (credited as Equinox Stars in-game) is featured on Just Dance 2019 as part of Kids Mode. It is also available on Just Dance Now, Just Dance Unlimited, and 舞力无限 via Kids Mode on the latter service.
Appearance of the Dancer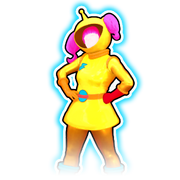 The coach is a girl dressed as an astronaut. She wears a yellow astronaut suit with a skirt, an antenna on its head, orange highlights and two light blue down-pointing triangles, as well as an orange belt with a light blue and red planet. She wears two gloves: the left one is orange, and the right one is red. Under her suit, she wears a pair of tight, golden pants and a pair of light blue boots with a golden sole. Her hair is pink and gathered in two pigtails, which come out of her suit. She has three outlines: a black, solid one around her body, a white, thicker, solid one over the black one and a light blue glow over the two outlines.
Background
The dancer is standing on a planet with craters and hills. Bubbles come out of the craters. Little space critters appear on the left and right sides of the dancer.. There are some planets and galaxy vortexes in the background, as well as some spaceships.
Gold Moves
There is 1 Gold Move in this routine:
Gold Move: Jump with your arms bent in the shape of an inverted L.
Cosmic Party is featured in the following playlists:
Just Dance Now
Trivia
Cosmic Party is the third song by Equinox Stars in the series.
The track for Cosmic Party appears in some of the teasers for Just Dance 2016 and the intense routines of Electro Body Combat from Just Dance 4. However, the song is slowed down.
Cosmic Party is the hardest Kids Mode routine on Just Dance 2019, as it is the only one to have both a Medium difficulty rating and a Moderate effort rating.

It is also the only Kids Mode routine on Just Dance 2019 to have a Moderate effort rating.

On April 8, 2020, Just Dance's American YouTube channel uploaded full gameplays of Cosmic Party and Shinobi Cat played in Just Dance Unlimited via Just Dance 2020, along with further full gameplays for Freeze Please, Happy Birthday, Jungle Dances and Magical Morning.

They are the third, fourth, fifth, sixth, seventh, and eighth full gameplays uploaded to Just Dance's social media, after those for Firework and Taste The Feeling (Olympic Version Community Remix).

Erroneously, the thumbnails and the titles for both previews mention Just Dance 2019 as the used game instead of Just Dance 2020.

The album background features the glass effect from Just Dance 2014.
The second preview for this song mistakenly puts that Just Dance Unlimited is required to play it on Just Dance 2019.
The Ubisoft Brasil channel has an unlisted preview for Cosmic Party.[2]
Gallery
Game Files
In-Game Screenshots
Promotional Images
Others
Videos
Gameplays
Extraction
References