New Pokemon Games - The Loop
Play Sound
I wonder where were you...

This page concerns content that has been shelved or removed from the series. Before updating this article, please ensure the veracity and verifiability of the information. Remember to cite your sources.
"大碗宽面 (Da Wan Kuan Mian)" (also known as "Big Bowl Thick Noodle") by Kris Wu was featured on 舞力全开. The Classic routine can also be found in the Chinese servers of Just Dance Unlimited.[1]
This song also has an Alternate routine.
In light of the sexual assault allegations made against Kris Wu, both the Classic and Alternate routines were removed from 舞力全开 and 舞力无限 respectively.[2]
Appearance of the Dancer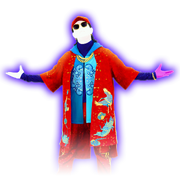 The dancer is a man. He has long, black hair. He wears a red cap and black sunglasses with gold rims. His glove is magenta. He has a dark blue, fading outline. He starts the routine with a white and dark blue fan. His outfit consist a Chinese themed outfit, he is wearing a red jacket with light blue and golden cranes over a dark blue long-sleeved shirt, a light blue and cyan opened vest with a Chinese patterned design, red long pants, and black and cyan sneakers with white soles.
Background

This section is a stub. You can help by adding to it.
The background has references to Chinese culture, such as dragons, noodles, and Chinese forests.
Gold Moves
There are 2 Gold Moves in this routine:
Gold Move 1: With your body slightly bent over towards the right side, raise your arms at a right angle and bounce your knees three times.
Gold Move 2: Like Gold Move 1, but it has to be done twice rather than three times.
Trivia
Da Wan Kuan Mian is the first song in the Asian series to have an alternate routine.
Da Wan Kuan Mian is the second song to be permanently removed from a game through a patch following release, after Nice For What in Just Dance 2019.
The album background is different from the one used in the menu square.
Gallery
Game Files
In-Game Screenshots
Promotional Images
Others
Videos
References