Remove the bandaids!

This article contains images or videos with watermarks. If possible, please replace them with non-watermarked media.
"Disturbia" by Rihanna is featured on Just Dance 4. The song can also be found in the files of Just Dance Unlimited.[2]
Appearance of the Dancer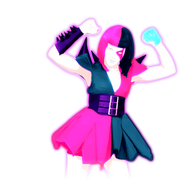 The dancer is a woman with bobbed hair divided in two sides: the left one is black and the right one is hot pink. She has a hot pink triangle pointing right on her right eye. She wears a dress that has shoulder puffs with dark violet spikes and a spiked skirt, and is parted into four sections: hot pink on the top left and bottom right, and indigo to the top right and bottom left. On her left wrist, she has a dark violet spiked bracelet. Around her waist, she wears a dark violet belt divided into three stripes, each with a silver buckle. On her shoes, she wears purple glittery ankle boots with cyan soles. Her outline is purple, and it pulses when she hits her head with her fists.
At the beginning of the routine, only her silhouette can be seen, which exudes blue and purple flames from her shoulders and left hand. As soon as the vocals start, she becomes fully visible and the flames fade away. Before the chorus, she exudes a bright, zoomed-out reflection. In the bridge, she creates a hot pink and cyan electric trails while she moves her right hand. This also happens at the end with both hands, before she fades to black.
Background
The routine takes place inside a trippy blue room with electric cyan and pink wires that go along with the beat of the song and a horizontal lavender and light turquoise wires. At the chorus, the room goes black with sparkles and cyan and hot pink trails coming from the coach's hand movements. During the bridge, the background turns gray and distorts. It also appears to have a slight fog effect at certain points during the song.
Mashup
Disturbia has an unlockable Mashup which is available on every console.
Dancers
Disturbia
Pump Up The Volume
Make The Party (Don't Stop)
Dance All Nite
Never Gonna Give You Up
We Speak No Americano
Let's Go To The Mall
Are You Gonna Go My Way
Good Feeling (Extreme)
She's Got Me Dancing
Cosmic Girl
Pump Up The Volume
Disturbia
Let's Go To The Mall
Are You Gonna Go My Way
Good Feeling (Extreme)
She's Got Me Dancing
Cosmic Girl
Disturbia
Puppet Master Mode
Disturbia has a Puppet Master Mode. Here are the captions in order of appearance:
Gold Moves
There are 3 Gold Moves in this routine:
Gold Moves 1 and 2: Put your hands on your legs and shake your body.
Gold Move 3: Lower your hands and bend down.
One player gets 3 stars
One player gets 5 stars
Get 5 stars on the Dance Mash-Up
Get all Gold Moves
Get the "In Rhythm" Dance style
Get GOOD when "Disturbia" is sung
Disturbia appears in the following Mashups:
Disturbia appears in Puppet/Party Master Modes. Here are the captions attributed to her dance moves:
Beat It
Crawl
Dark Feelings
Disturbed Shake
Fever
Hands Up
Kitty Claws
Monster Claw
Open the Window
Side Claws
Windmill
Trivia
General
Disturbia is the fourth song by Rihanna in the series.
Disturbia is the second song to have censorship integrated in the original song, after Bebe. In this case, the censored term is "s**t".
The line "No more gas in the rig" is misinterpreted as "No more gas in the red".
The line "Throw on your break lights" is misinterpreted as "Put on your pretty lies".
Throughout the Classic routine and Puppet Master Mode, the lyrics are highlighted before they are actually sung.

This does not happen in the Mashup.
Classic
Disturbia was Aurélie Sériné's first routine she performed in the series.[3]
Disturbia is the only map in Just Dance 4 to have an avatar in that game.
The dancer's glove constantly glitches from cyan to spring green.
The coach's eyes are transparent, resulting in her ocular region being affected by editing glitches.
The coach is in the middle of the PAL box art of Just Dance 4. However, she has long fuchsia hair instead of hot pink and black bobbed hair, her triangle is replaced by a lightning bolt, her arm band has been moved to her right arm, her nails are painted dark fuchsia, and her dress is slightly less saturated.
The coach makes a cameo in the background of Just Dance.
In a Beta picture for Party Master Mode on Just Dance 2014, there is a caption called "Open The Window" featuring the coach. However, this caption is not seen in the actual game.
Despite the coach and menu icon of Disturbia making an appearance in the teaser and trailer for Just Dance Unlimited, Disturbia is currently not available for the service.
On Just Dance 2017, there is an avatar that depicts a Rabbid wearing the coach's hairstyle and eye painting.

This avatar also appears on Just Dance's wrapping paper as part of Ubisoft's 30-year anniversary advent calendar.[4]

The coach appears as a silhouette in the outro of the previews for Just Dance 2020.
A Kids Mode placeholder for the song can be found in the files of Just Dance Unlimited.[2]
Mashup
Puppet Master Mode
A beta pictogram is used to replace Marcia Baila's Gold Move.
Gallery
Game Files
In-Game Screenshots
Promotional Images
Beta Elements
Others
Videos
Official Music Video
Gameplays
Extractions
References
v - e - d

Puppet/Party Master Modes