Fire Emblem Warriors: Three Hopes - The Loop
Play Sound
Remove the bandaids!

This article contains images or videos with watermarks. If possible, please replace them with non-watermarked media.
"Don't Stop Me Now" by Queen is featured on Just Dance 2017, Just Dance Unlimited, Just Dance Now, 舞力全开2017, and 舞力无限.
The song has been free to play on Just Dance Unlimited twice: once during Season 4: It's Showtime, and again during Season 3: Festival!.
The song also has an alternate routine titled "Panda Version".
Appearance of the Dancer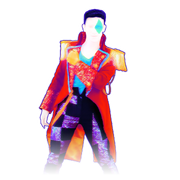 The coach is a man with short hair combed to the right. He has two different designs: the first one is used in the intro and the outro, while every other part uses the second one.
C1
The coach starts out with indigo hair, cobalt blue skin covered in stars, a red rhombus on his right eye, a red an black checkered glitter suit with a high black collar and a narrow triangular hole that exposes a part of his chest, a cobalt blue blanket on each sleeve that lights up at times, a red belt with three cobalt blue triangles pointing to the right in the middle and a pair of black boots. His outline is blue and glowing.
C2
Shortly after the beginning, the camera zooms into the coach's right sleeve to reveal his transformation. He now has blue hair, a blue rhombus, a red and gold jacket with golden shoulder pads with fringes, large sleeve cuffs, a red collar with a blue outline, a sky blue tank top, black pants with purple glitter checker and lightning held by a pair of suspenders, a golden chain on his left pocket and purple penny loafers. His outline is white and paper-like with a very sharp contour, as if it was cut out.
Background
The background begins with a black starry backdrop and piano keys, complete with a spotlight shining on the man. The scenery swoops in his sleeve, exposing the man's second design and a sunny day on a black and white checkered floor. Swooping forward, the scenery contains broccoli, flowers, ladders, pointing fingers shooting to the sky with rainbows, and a few butterfly hot air balloons. It then raises up to an opening stage curtain. The curtain opens up to a content-faced sun with seashells and starfish swooping inward. Afterwards, a piano spiral comes in, with a few decorated joyful live action animals floating in mid-air along with bananas and clocks. After this repeats, the background has the floating animals now bouncing on drums along with a giant crown shining in the background. Once this is over, a butterfly guitar shoots through the sky, leading back to the faced sun. The piano spiral comes in once more, and finally going back through the sleeve, to the area that the song starts at.
Gold Moves
There are 3 Gold Moves in this routine, all of which are the same:
All Gold Moves: Point forward while shaking your head.
Release History
This section details the release and removal history of Don't Stop Me Now.
Routine
Game
Date Added
Date Removed
Classic
Just Dance Now
October 20, 2016
October 27, 2016
December 28, 2016
January 4, 2016
February 16, 2017
N/A
Just Dance Unlimited
October 12, 2017
N/A

September 10, 2020

September 24, 2020

July 8, 2021

July 22, 2021
舞力无限
July 9, 2021
N/A
Community Remix
Just Dance Unlimited
April 10, 2017
N/A
Don't Stop Me Now has a Community Remix. The following are featured:
Celeste91 [Netherlands]
Zombie2817 [U.S.A]
XhayatX [Turkey]
Joeybarbella [U.S.A]
Tripppyyhipple [U.S.A]
DanGarclaR98 [Brazil]
CRAZYGAMERV1 [U.S.A]
Ema RB360 [Costa Rica]
Aerryne [France]
DecldedBarley33 [Brazil]
Steel YU [Brazil]
Matheuspln [Brazil]
FacePenguin3246 [Mexico]
Josephtian [Malaysia]
Taninl Arc [Mexico]
YohannlyBabay [Russia]
SabrinaRocket [German]
Khaleo93 [U.S.A]
Blueberry_sans13 [German]
Stormy Wolf731 [U.S.A]
DiegoSanchez097 [Mexico]
Matchbr [New Zealand]
Gabthenostalgic [Canada]
Baracuda_417 [Hong Kong]
Joenmurl [Ecuador]
Chamastick [France]
DanGarclaR98 [Brazil]
Tripppyyhipple [U.S.A]
Teeven2001 [France]
Dancigndreaming [U.S.A]
Serglo Toklo [Mexico]
FinteTag550 [Brazil]
MaquedaeLias14 [Mexico]
Lavsma [Brazil]
Dancigndreaming [U.S.A]
DavidHS3284 [Mexico]
Elleen1510 [German]
BlazingGuitar14 [U.S.A]
AlrerHawk95414 [Israel]
Keurntjes [Netherlands]
Bencase [England]
ELFCamillo2 [Colombia]
Dragonblaster4 [Canada]
Moogly-H [New Zealand]
Hanledson [Brazil]
DancerGirl2k [U.S.A]
RAS310 [U.S.A]
Peter Sarutobi [Spain]
Longniko200007 [Hungary]
CRAZYGAMERV1 [U.S.A]
XhayatX [Turkey]
SteveSoyYo [Mexico]
Tripppyyhipple [U.S.A]
Rohmires [Brazil]
Amslam [U.S.A]
PanicFlly846 [U.S.A]
WumbolgyGiraffe [U.S.A]
Axll Rose L [Brazil]
FinteTag550 [Brazil]
Don't Stop Me Now is featured in the following playlists:
Just Dance 2019
Just Dance 2020
Just Dance Now
Just Dance Unlimited
Trivia
General
Don't Stop Me Now is the second song by Queen in the series.
Don't Stop Me Now was used as the opening act for the Ubisoft E3 press conference to promote Just Dance 2017.

The conference included a dance number which featured dancers dressed as coaches from other games. The costumes used in the show are (besides Don't Stop Me Now):

The outfit was used for the 2019 E3 Ubisoft Conference.
"Sex" is replaced with "race" in the audio, but it is replaced with the ellipses in the lyrics.

However, the word "sex" was not censored when it was used at the Ubisoft E3 press conference.
Classic
Don't Stop Me Now was the first routine in the series to have been removed and re-released on Just Dance Now on three separate occasions.
Don't Stop Me Now was the first routine to be made temporarily free in Just Dance Unlimited in different seasons.
C2's tank top was taken from One Way Or Another (Teenage Kicks).
The background reappears in Wherever I Go and Don't Worry.
The fairy, the crab, the lion and the bird that appear during the chorus could be a reference to the crest in Queen's logo.
In some screenshots, C2 has a light blue faded outline instead of a paper-like outline.

Additionally, his outline is white-and-purple and thick on the menu instead of paper-looking.

The emblem from the song's cover art is used in the routine.
The costume required twelve days to be created, due to the huge variety of fabrics and weaves that compose it.[3]
In the E3 preview, C2's pictograms have the same color as C1's; in the final copy of the game, however, they are red.
When Don't Stop Me Now was re-added to Just Dance Now along with the first release of Run the Night, September, and Watch Me (Whip/Nae Nae), it did not appear in the "Songs A-E" section, nor in the "Recently added" section and in the "Solos" playlist.

This issue was fixed after its third release.

The golden avatar does not have a light blue rhombus around its right eye, as opposed to the coach himself.
Don't Stop Me Now was one of the routines selected for the digital qualifications of the Just Dance 2017 World Cup.[6]
In an event held on Just Dance's official Twitter account to pick the Just Dance coaches meant to make a cameo in the new music video for Nails, Hair, Hips, Heels, the coach has been given the name "Mister Fahrenheit", which is a reference to the line "That's why they call me Mister Fahrenheit".[7]

This also happens in an image from Just Dance's Twitter account that promotes Season 3: Festival!

The Just Dance Unlimited teaser that announced Don't Stop Me Now was playable for free as part of Season 3: Festival! uses footage from the recording made for the original teaser. The thumbnail, however, has been remodeled following Just Dance 2022's template, and the end card follows Just Dance 2021's template.

This is not the case in the YouTube announcement for Season 3: Festival!, where the Just Dance 2021 HUD is used.
Gallery
Game Files
In-Game Screenshots
Promotional Images
Behind the Scenes
Beta Elements
See also: Just Dance 2017/Beta Elements#Don't Stop Me Now
Others
Videos
Official Music Video
Gameplays
Classic
Community Remix
Extraction
References