"FANTASTIC BABY (Japanese Version)" by BIGBANG is featured on Just Dance Wii U.
Appearance of the Dancer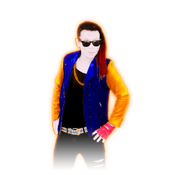 The dancer is a man with red dyed hair shaved on his right side and long on his left. He is wearing sunglasses, a New York style orange and blue jacket, a black shirt, ripped black skinny jeans, orange sneakers, and a reddish pink glove.
Background
The routine takes place in a post-apocalyptic city with smoke spewing from factories, and wrecked cars on fire in the background. The screen sometimes flashes to static, and explosions can also be seen in the background. Clones of the dancer in different shades and hues can also be seen. Every time that the chorus starts, the background gets colder. During the final part of the routine, the background becomes wintry, and icicles and snow can be seen on the cars.
Gold Moves
There are 5 Gold Moves in this routine:
Gold Moves 1, 2, and 4: Put your hands up while going backwards.
Gold Move 3: Put your hands together.
Gold Move 5: Throw both of your hands out.
Trivia
FANTASTIC BABY is the first song by BIGBANG in the series.
FANTASTIC BABY is the second song to have all its English lyrics in caps, after Independent Woman. It is followed by Tsukematsukeru and Adoration to Happiness.
There is a Korean version of the song, which is the original version. However, due to the fact that Just Dance Wii U is a Japanese game, the Japanese version was used.
Gallery
Game Files
In-Game Screenshots
Videos
References
Community content is available under
CC-BY-SA
unless otherwise noted.