"Fancy Footwork" by Chromeo is featured on Just Dance 2020​.
Appearance of the Dancer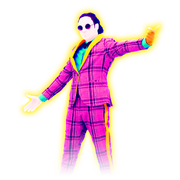 The dancer is a man with lumpy dark purple hair in a bun and sideburns. He wears a yellow shower cap and a pink and purple bathrobe. When the song kicks, his outfit is turned into a hot pink plaid tuxedo with yellow accents, cyan long sleeve undershirt, a black bowtie, hot pink plaid pants with yellow lines on the side and converse high top cyan sneakers with white laces and soles. He also wears a pair of purple circular sunglasses. He has a yellow outline.
Background
The background takes place in a bathroom with a shower, rubber duckie, and hamper full of clothes on the left; a mirror and sink in the center; and a toliet, window, and robe on the right. There are three rugs on the floor. When the song starts, the bathroom is replaced with a studio with flashing lights on it. During the chorus, bubbles appear and change the background to three mini-stages, two with yellow lights and one with a blue light. A single frame with lights surrounding it appear on the wall before the chorus. Before the end, lights shaped like rubber duckies appear, as well as a single orange disco ball duck.
Gold Moves
There are 2 Gold Moves in this routine:
Gold Move 1: Shoot out your arm and point at the screen.​​​​​​
Gold Move 2: Swing both your arms towards your back and bend back.
Trivia
General
Routine
The coach appears in the Just Dance 2020 Celebration trailer. [3]
The coach appears in the background of Skibidi.
This song was used in the demo, but it was replaced by Talk due to a glitch.
Playing Fancy Footwork 3 times unlocks the Never Can Say Goodbye roller skates sticker.
Gallery
Game Files
In-Game Screenshots
Others
Videos
Official Music Video
Gameplays
References
Site Nagivation
Community content is available under
CC-BY-SA
unless otherwise noted.