"Flash (Just Dance Version)" by Bilal Hassani with Sundy Jules, Paola Locatelli and Sulivan Gwed is featured on Just Dance 2021 as a French exclusive and in Just Dance Unlimited. The song has also been found in the files of Just Dance Now.[4]
Appearance of the Dancers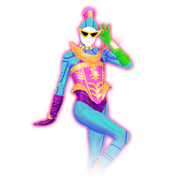 The dancer is an androgynous man dressed in a futuristic style. He has hot pink hair in a long tight ponytail sectioned into three bulbs at the top. The basis of his outfit is a metallic blue catsuit with dark blue lines on the arms and legs. His ponytail is held by a golden cuff that sticks out of the catsuit around his head. He also wears a pair of dramatic yellow cat eye sunglasses. The bodice of the suit is a dark magenta color, and overtop is a futuristic corset. It is mainly pink, with a large gold collar and protruding accents around the waist. A light green gemstone is found in the center of the breastplate, as well as some lining his gold choker necklace. He wears dark magenta heeled booties with a metallic toe and V-shaped accent. His gloves are elbow-height, the left being dark magenta and the right being lime green. He accessorizes with gold cuff bracelets over the gloves. He has a coral glowing outline.
Background
The routine takes place in a pink and yellow vaporwave style city with palm trees and holograms of the song's artists near the buildings. Random floor tiles light up in yellow to the beat.
During the chorus, the floor and palm trees turn purple.
In the bridge and outro, the city's color scheme switches to blue and purple.
During the final chorus and outro, the holograms stand next to the coach.
Gold Moves
There are 2 Gold Moves in this routine:
Gold Move 1: Throw your arms out.
Gold Move 2: While facing to the left, throw your arms behind your body. This is the final move of the routine.
Flash appears in the following playlists:
Just Dance 2021
Trivia
General
Flash is the eleventh French-language song in the series.
Flash and Volar are the eighth and ninth songs in the series by a YouTube personality, current or former, after Gibberish, YOUTH, Je sais pas danser, Beep Beep I'm A Sheep, J'suis pas jalouse, On Ne Porte Pas De Sous-Vêtements, and 1999.
The "Just Dance Version" of the song is used in-game, where most of the lyrics have been changed.
Even though Sundy Jules, Paola Locatelli, and Sulivan Gwed are also credited in-game, only Bilal Hassani performs the vocals for the song.
The official music video has a pinball machine based around Just Dance 2021.
Routine
The album background features the glass effect from Just Dance 2014.
The routine uses moves from the live performance of the song.
An early version of the album coach can be found in the Just Dance Unlimited's servers.
Gallery
Game Files
In-Game Screenshots
Promotional Images
Beta Elements
Behind the Scenes
Others
Videos
References