Fire Emblem Warriors: Three Hopes - The Loop
Play Sound
"Funkytown" by Lipps Inc. (covered by Sweat Invaders in-game) is featured on the Best Buy edition of Just Dance 2. The song also appears on Just Dance: Summer Party, Just Dance Now, and Just Dance Unlimited.
Appearance of the Dancer
Original
The dancer is a male, green, frog-like alien. He is wearing a dark green suit with a Saturn logo, a white belt with a futurist ray weapon, a pink with white accents collar, and dark green boots.
Remake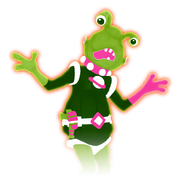 In the remake, the color palette for the dancer is now more saturated, and he looks more realistic.
Background
Original
The background appears to take place in an old film. There are UFOs flying around, as if there is an invasion going on, and one of the UFOs are shooting beams. Plus, there is a farm on the ground, and there are aliens that can be seen walking around the place. A cow is seen being abducted. In the beginning, the dancer gets lowered to the ground by the UFO beam and then elevates at the end of the choreography.
Remake
The colors for the background have been changed from black and white to sepia.
Gold Moves
There are 4 Gold Moves in the routine, all of which are the same.
All Gold Moves: Flap your arms. All four moves are done consecutively during the chorus.
Funkytown appears in the following Mashups:
Funkytown appears in Puppet/Party Master Modes. Here are the captions attributed to his dance moves:
Flying Frog
Frog On Fire
Funky Frog
Funky Walk
Funny Frog
Funny Frog Swing
Lazy Frog
Mad Frog
Traffic Frog
Funkytown is featured in the following playlists:
Just Dance 2019
Just Dance Now
Trivia
General
The cover used in-game has a different ending compared to the original song: instead of fading out while repeating "Won't you take me down, to Funkytown", it ends by shortly repeating the instrumental section at the beginning.
The cover's instrumental was recycled from Rayman Raving Rabbids 2, however the vocals were altered in the game.[2]
In Just Dance Unlimited and later versions of Just Dance Now, the song title is spelled as Funky Town.
Routine
Some of the pictograms have names that reference Tom Sawyer.
In the Just Dance 2 and Just Dance: Summer Party menu square, the coach's mouth has a slightly different shape.
In Just Dance 2 and Just Dance: Summer Party, whenever the dancer raises his arms or jumps, his hand or head get cut out.

This was fixed in the remake.

In Jamaican Dance (Mashup), three of the Gold Moves have been removed.
The background appears in Rock Lobster.
An unused pictogram can be found in the old Just Dance Now servers.
In Just Dance Now, the preview does not show the Gold Move effect during the Gold Move.
A sticker of the clouds in the background can be unlocked in Just Dance 2020 by dancing to Rain Over Me (Extreme Version) three times.
Gallery
Game Files
In-Game Screenshots
Behind the Scenes
Beta Elements
Others
Videos
Official Audio
Gameplays
Extractions
References