Remove the bandaids!

This article contains images or videos with watermarks. If possible, please replace them with non-watermarked media.
"Gentleman" by PSY is featured on Just Dance 2014, Just Dance Wii U, Just Dance Now, and Just Dance Unlimited.
Appearance of the Dancers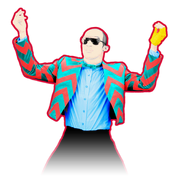 Classic
The dancer, a man, switches between two different outfits:
C1
The first one is wearing blue spandex shorts, a blue sleeveless vest, a pair of black shoes and a black hat. He also wears a pair of dark sunglasses and cyan socks. He has a pink outline.
C2
The second wears a V-striped blue and red coat, a light blue t-shirt, a pair of black pants and a pair of black sneakers. He also wears a pair of dark sunglasses. His hair is very short. He has a red outline.
Background
Classic
The background are real-life backgrounds that change. Scenes include the Eiffel Tower with tourists, an underpass, an aquarium and street views. There is also a beta dancer.
Gold Moves
Classic
There are 4 Gold Moves in the Classic routine, all of which are the same:
All Gold Moves: Straighten an invisible tie.
Mashup
There are 4 Gold Moves in the Mashup:
Gold Moves 1 and 3: Put your hands on your legs and shake your body. (Disturbia)
Gold Move 2: Point to the screen and spin your hips. (It's You)
Gold Move 4: Put your hands out. (We No Speak Americano)

Gentleman has a Mashup available on Just Dance 2014.
Dancers
Gentleman has a Party Master Mode. Here are the captions listed in order of appearance. (Captions in bold indicate a Song Switch.)
Gentleman
Gentleman
Gentleman
Battle
Gentleman has a battle against Fine China. For the battle, click here.
Gentleman appears in the following Mashups:
Classic
Classic
Gentleman appears in the following playlists:
Classic
Just Dance Now
Happy Holidays!
K-Pop Till You Drop!
Your First Song
Easy Peasy Party
All Songs F-J
Solo
Just Dance Unlimited
Easy Peasy Party
Hall of Fame
Just Dance Unlimited F-J
Solo
Both versions of Gentleman appear in Party Master Modes. Here are the captions attributed to their dance moves:
Classic
Trivia
Gentleman is the second song by PSY in the series.
Gentleman is the second Korean song in the series, after Gangnam Style.
"Damn" and "freaking" are censored, and "wet" is replaced with "sweat".
"I-I-I-I-I-I-I-I I'm a" is misspelled as "I-I-I-I-I-I-I-I'am a."
This song has a pictogram error. One of the pictograms during the second chorus is reversed.
This song is the first one to have live-action backgrounds; it is followed by Happy, Fancy, Je sais pas danser, and Bum Bum Tam Tam.
Near the end of the routine, the unknown disco ball head dancer appears in the background.[2]
In an early screenshot, there is a picture of C1 doing a move which is not shown in the choreography. This could indicate that the choreography was changed at one point in development.
In the title for the gameplay teaser on the Just Dance US YouTube channel, the song's title is incorrectly displayed as "Gentlemen" instead of "Gentleman".
Both Classic and Sweat coaches make a cameo appearance in the background of Uptown Funk.
The transition between the two coaches is instant, like the transitions in Maneater's mashup.
Gallery
Game Files
In-Game Screenshots
Promotional Images
Behind the Scenes
Beta Elements
Others
Videos
Official Music Video
Gameplays
Classic
Mashup
Party Master Mode
Extractions
References
Community content is available under
CC-BY-SA
unless otherwise noted.