"Gentleman" by Psy is featured on Just Dance 2014, Just Dance Wii U, Just Dance Now, and Just Dance Unlimited.
Appearance of the Dancers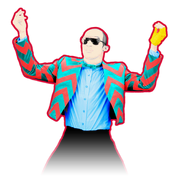 The dancer, a man, switches between two different outfits:
C1
The first one is wearing blue spandex shorts, a blue sleeveless vest, a pair of black shoes, and a black hat. He also wears a pair of dark sunglasses and cyan socks. He has a pink outline.
C2
The second wears a V-striped blue and red coat, a light blue t-shirt, a pair of black pants, and a pair of black sneakers. He also wears a pair of dark sunglasses. His hair is very short. He has a red outline.
Background
The background are real-life backgrounds that change. Scenes include the Eiffel Tower with tourists, an underpass, an aquarium, and street views. There is also a beta dancer. People in the backgrounds faces are blurred out for privacy.
Gold Moves
Classic
There are 4 Gold Moves in the Classic routine, all of which are the same:
All Gold Moves: Put both of your hands on your chest.
Mashup
There are 4 Gold Moves in the Mashup:
Gold Moves 1 and 3: Put your hands on your legs and shake your body. (Disturbia)
Gold Move 2: Point to the screen and spin your hips. (It's You)
Gold Move 4: Put your hands out. (We No Speak Americano)
Gentleman has a Mashup available on Just Dance.
Dancers
Gentleman
Disturbia [GM1]
It's You [GM2]
Good Feeling
Forget You
Starships
She Wolf (Falling to Pieces)
Can't Take My Eyes Off You (Wrestler Version)
Disturbia [GM3]
Moves Like Jagger
We No Speak Americano [GM4]
Moves Like Jagger
I Kissed a Girl
Gentleman
Gentleman has a Party Master Mode. Here are the captions listed in order of appearance. (Captions in bold indicate a Song Switch.)
Battle
Gentleman has a battle against Fine China. For the battle, click here.
Gentleman appears in the following Mashups:
Gentleman appears in the following playlists:
Just Dance Now
Bloom Boom!
Groove and Glitter!
Dance Essentials!
Happy Holidays!
K-Pop Till You Drop!
Your First Song
Easy Peasy Party
Solo
Just Dance Unlimited
Easy Peasy Party
Hall of Fame
Just Dance Unlimited F-J
Solo
K-pop
Both versions of Gentleman appear in Party Master Modes. Here are the captions attributed to their dance moves:
Trivia
General
Gentleman is the second Korean-language song in the series.
Gentleman is the second song by Psy in the series.
"Damn" and "freaking" are censored, and "wet" is replaced with "sweat".
"I-I-I-I-I-I-I-I I'm a" is misspelled as "I-I-I-I-I-I-I-I'am a".
In the title for the US gameplay teaser, the song title is incorrectly displayed as "Gentlemen".
All Korean lyrics are romanized in a completely wrong way.

For example, '알랑가 몰라', which is the first line of this song and means 'It is uncertain whether you know it or not' in a colloquial style, is written as 'Alagamun-lan' even though it should be written as 'Allangga molla' according to Revised Romanization of Korean.
It doesn't happen in PSY's other songs.
Classic
Gentleman is the first routine in the Just Dance series to have live-action backgrounds.
Near the end of the routine, the unknown disco ball head dancer appears in the background.[2]
One of the pictograms during the second chorus is reversed.
In an early screenshot, there is a picture of C1 doing a move that is not seen in-game. This could indicate that the choreography was changed at one point during development.
The coach makes a cameo appearance in the background of Uptown Funk.
Gallery
Game Files
In-Game Screenshots
Promotional Images
Behind the Scenes
Beta Elements
Others
Videos
Official Music Video
Gameplays
Classic
Mashup
Party Master Mode
Extractions
References