Raise a Floppa - The Loop
Play Sound
"Girl Like Me" (stylized as "GIRL LIKE ME") by Black Eyed Peas and Shakira is featured on Just Dance 2022 and 舞力无限.
The song also has an Extreme routine which can be unlocked by earning Superstar or higher on the Classic routine.
Appearance of the Dancers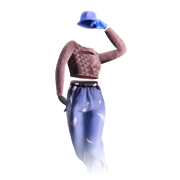 The coach is an invisible character that was created using motion capture.[1] They all share two common details, which are a black left glove and a cobalt blue right glove.
C1
C1 is based on a woman. She has a cobalt blue bucket hat, dark lipstick pink patterned long-sleeved top with thin black lacey patterns that exposes her midriff, light blue with white triangle randomly placed jogging pants with a black belt and large white stripes in the center and white sports shoes with black soles.
C2
C2 is based on will.i.am in the music video. He has a small white cap resembling a pork pie hat and black sunglasses. He wears a white hoodie, a bubblegum pink open jacket with two pockets in the left side and one pocket in the right side, white jeans, and white shoes with thin black soles.
C3
C3 is based on Shakira in the music video. She has a red headband, a white cropped hoodie, a jumpsuit with downwards black and white triangular pattern and bright red leg sleeves with fading transitions between the thighs and hips, black leg warmers and white shoes.
C4
C4 is based on a man. He has a black hat resembling a bowler hat with a platinum hoodie, a bright gray open jacket, dark gray jeans with thin tiles and dark gray shoes.
Background
The routine starts in a valley with pink grass and arched gates. The title "GIRL LIKE ME" goes by as another gate appears. Once the song starts, C1 is seen standing in a square of police tape while behind her a giant rock is held up with police tape as well. When C2's part starts, he is behind a pink wall with two piles of rocks and other debris floating behind him. At the second part of the verse, C2 is standing in behind of a wall of pink stained frosted glass with another rock pile behind the glass.
Once the chorus starts, C3 is between two archways. When "So they tell me that you're lookin' for a girl like me" is sung for the second time, the archway behind C3 extents for a bit. Once will.i.am's part of the chorus starts the camera turns so that the archways are either side of C2 with a spotlight behind him. when Shakira's second part of the chorus plays, C1 appears but with feathers floating down from the sky.
Once the final chorus comes around, C1 is on a rock with a light wall and a mirror behind her, C2 also appears where he was in the first verse and C3 comes and is behind a curved wall with red and blue lines going around it and a mirror on either side. Once the song is done, the scene cuts to the first background, where all four coaches pose together.
Gold Moves
There is 1 Gold Move in this routine:
Gold Move: Put your hands down while shaking your body and face the right.
Trivia
General
Routine
The choreography in the chorus is taken from the song's music video.[1]
Chandelier, Girl Like Me, Mr. Blue Sky, and Think About Things are the fifth through eighth routines in the Just Dance series to have an animated coach, after Naughty Girl (Rabbid Peach Version), Mi Mi Mi (P1), Shaky Shaky, and Bangarang.
Girl Like Me is the second routine where a coach is invisible, after Rave in the Grave.
Girl Like Me is the third routine with coaches created using motion capture.[1]
Girl Like Me (C1 and C3) and You Make Me Feel (Mighty Real) are the fifth and sixth unique non-male-passing coaches known to be portrayed by a man, after Drop the Mambo (who appears as C4 of P1 in Sugar), Pac-Man (P3), Le Bal Masqué (P2), and Boy, You Can Keep It.[1]
Gallery
Game Files
In-Game Screenshots
Promotional Images
Behind the Scenes
Others
Videos
Official Music Video
Gameplay
References