"God Is a Woman" by Ariana Grande is featured on Just Dance 2020.
Appearance of the Dancer
Classic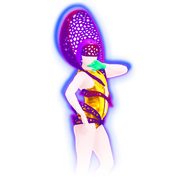 The dancer is a woman with short hair in a bob cut. She wears a leotard with a metal shield that goes over her head and extends past her hips, metal mesh anklets, and lace up, open-toe high heels. During the verses, her hair is blonde, her leotard and shoes are blue, and her metal casings and anklets are gray. During the chorus, her hair is hot pink, her leotard and shoes are yellow, and her metal casings and anklets are dark purple.
Goddess Version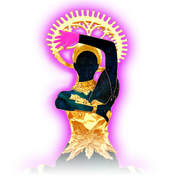 The dancer is supposed to be a goddess with golden hair in a long ponytail. Her skin is a dark galaxy pattern that blends into the background. She wears a golden chestplate and a golden aigrette headdress, resembling halos seen in Renaissance art. There is fabric draped around the shoulder beneath the chestplate that is in the same galaxy pattern as her skin. She accessorizes with a large intricate golden necklace and a golden cuff on her left forearm. When the camera pans out, it can be seen that there is a dress beneath her chestplate in the galaxy pattern. Her glove is hot pink. She has a glowing purple outline and some of her features are outlined in thin opaque lines.
Background
Classic
The background contains a significant amount of smoke over a starry space backdrop. It starts off blue. The smoke is first shown to switch between yellow and red. It is then shown to switch between pink, red, and purple before going back to yellow. The smoke abruptly changes its speeds of movement. Fire also appears in the background.
Goddess Version
The background is the outer space, while the coach dances, several golden designs appear behind her, such as wings, pegasus, a sun and moon of the zodiac, "the eye that sees everything" and pegasus. Near the end of the routine, the illuminati symbol of the "eye that sees everything" appears, when the routine ends, the drawings that appear and the coach are covered by clouds.
Gold Moves
Classic
There are 2 Gold Moves in the routine:
Gold Move 1: Pull out your arms and bring them back in.
Gold Move 2: Put your hands out near your face.
Goddess Version
There is 1 Gold Move in the Goddess routine:
Gold Move: Move both arms upwards.
God Is a Woman is featured in the following playlists
Classic
Just Dance 2020
Must Dance 2020
Hits Just Dance 2020
Trivia
General
God Is A Woman is the eighth song by Ariana Grande in the series.
Classic
The coach's glove often glitches from spring green to cyan throughout the routine.
The coach is featured in the background of Skibidi, but unlike the other coaches in the background, she walks offscreen instead of doing the dance.
Playing the classic version 3 times unlocks the coach's sticker.
Goddess
Gallery
Game Files
Promotional Images
Behind the Scenes
Others
Videos
Official Music Video
Classic
Goddess Version
Gameplay
Classic
Goddess Version
Behind the Scenes
References
v - e - d

Puppet/Party Master Modes