"Good Girl" by Carrie Underwood is featured on Just Dance 4 as an NTSC exclusive. It is also available as a downloadable track in the PAL region.
Appearance of the Dancer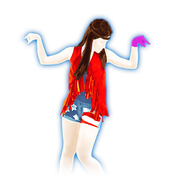 The dancer is a girl who wears a hippie based outfit. She has very long brown hair with a small headband on her forehead. She wears a red sleeveless fringe jacket over a blue shirt, waist-high denim jeans printed with the American flag, and brown ankle-height high heel boots.
Background
The background is a meadow with many flowers and poppies, cottages, and trees. There appears to be a cottage far off in the background. The time switches from daytime to nighttime during the third verse.
Gold Moves
There are 3 Gold Moves in the routine, all of which are all the same:
All Gold Moves: Bend your wrists with your fingers pointing to the ground. The third gold move is the final move of the routine.
Note that these are only available in the NTSC version.
One player gets 3 stars
One player gets 4 stars
One player gets 5 stars
Get all Gold Moves
Get the "Smooth" Dance style
Get GOOD when "Hey good girl" is sung
Good Girl is featured in the following Mashups:
Good Girl appears in Puppet/Party Master Modes. Here are the captions attributed to her dance moves:
American Girl
Hippie Walk
Indiana Girl
Number One
Trivia
Gallery
Game Files
In-Game Screenshots
Promotional Images
Behind the Scenes
Videos
Official Music Video
Gameplays
Extractions
References