Raise a Floppa - The Loop
Play Sound
"Happier Than Ever" by Billie Eilish is featured on Just Dance 2022, 舞力无限, and Just Dance Now.
Appearance of the Dancer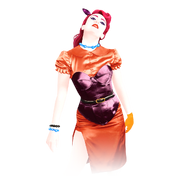 The dancer is a woman with pinkish magenta hair styled in a curly updo, with curly strands either flowing behind her head or resting on her right shoulder. She has pinkish magenta eyebrows, black sharp eyeshadow, and dark orange lips. She wears a shiny orange dress, with collar and sleeves in the style of 1950s dresses, and a pencil skirt with a large slit on the left side that exposes her left thigh and orange underwear. Covering her breasts and abdomen is a shiny dull purple pointed overbust corset top which is secured by a small black leather belt with a metal buckle around her stomach. She also wears a pair of black strap block high heels. A shiny dull purple hair ribbon is tied on her hair and her other accessories includes a sky blue beaded necklace, and black and sky blue beaded bracelets on her left wrist. She has a yellowish orange glove.
Background
The routine takes place on a partly destroyed orange-colored patio. The coach sits on a black beach chair. When she stands up, the destruction reverses to the start. At the start of the third verse, the tiles, light balls, statues and some parts of her house start exploding and landing on the floor. From "You ruined everything good" to "Just ... leave me alone", there is a big blue mist light surrounding the coach. After Gold Move 1, the blue light disappears and she comes back to the house. When the song ends, the coach is surrounded by the dusty rubble again, and she sits back in her chair. There are palm trees on the distance.
Gold Moves
There are 2 Gold Moves in this routine:
Gold Move 1: Bend slightly backwards and throw your arms out quickly.
Gold Move 2: While tilting to the right and back, throw your right arm down and your left arm above your head.
Trivia
General
Happier Than Ever is the third song by Billie Eilish in the series.
Happier Than Ever is shortened by 1 minute and 20 seconds. The intro has been removed with the exception of the starting and ending lines of "When I'm away from you/I'm happier than ever/Wish I could explain it better/I wish it wasn't true".
"Drunk", "influence", "s**t" (and its variations), and "f**king" are censored.

During the final instrumental part of the song, the background vocals shouting "goddamn" and "f**k you" are left unedited.

Happier Than Ever was accidentally leaked on a game cover by Nintendo on their website along with Boss Witch, Good 4 U, Jerusalema, Love Story (Taylor's Version), Mood, and Save Your Tears (Remix).[2]
Routine
Happier Than Ever marks Julia Spiesser's return as a choreographer in the Just Dance series. Her last contributions before Happier Than Ever were in Just Dance 3.
According to a post in the official Latin American Instagram account, the coach has telekinetic powers.[3]
One of the pictograms misspells the word "annoyed" as "anoyed" in its file name.[4]
The coach of Happier Than Ever was used to represent Taurus in promotional tweets for Season 1: Astral.[5]
On March 18, 2022, Just Dance's Italian Instagram account celebrated World Sleep Day 2022 by posting a picture of the album coach of Happier Than Ever with her eyes closed over a lilac and light pink gradient.[6]
Gallery
Game Files
In-Game Screenshots
Promotional Images
Beta Elements
Others
Videos
Official Music Video
Gameplay
References