Raise a Floppa - The Loop
Play Sound
"初恋棘でゲラゲラポー" ("Hatsukoitōge de Geragerapō") by King Cream Soda (キングクリームソーダ) is featured on Yo-kai Watch Dance: Just Dance Special Version.
Appearance of the Dancer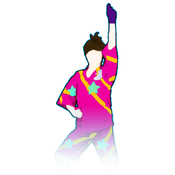 The dancer is Nate/Keita wearing a hot pink kimono like suit with yellow stripes and aqua stars, and a pair of sandals. He also has some black and light blue outlines in full opacity.
Background
The coach dances on a wooden stage with colorful spotlights on him that reveal parts of the setting for his performance. After several seconds, the curtains lift up and show snowy mountains with green trees and a red umbrella on a table covered by a red tablecloth; there are also sakura trees on his sides and falling cherry blossom petals. Various Yo-kai appear for few seconds, and pictures of Noko, Jibanyan, Whisper and Komasan pop up in many poses, as paper cutouts with a stick.
Sometimes, the lights turn off and the four paper Yo-kai disappear, and a spotlight shines on the coach again: in the meanwhile, some cherry blossom petals are generated by some of his movements, and other Yokai pictures float in the air from one side to another, surrounded by a big colored aura.
During the chorus, the sakura trees are replaced by green trees, the blue sky turns green and the clouds turn green or yellow; when the dancer does Gold Move 2 and 3, other Yo-kai ride on stylised waves.
In the second verse, the sky turns into a spectrum and shows rotating rays behind the mountain, and the sakura petals are replaced by sparks.
Gold Moves
There are 3 Gold Moves in this routine:
Gold Move 1: Move both of your arms to the up right slowly.
Gold Moves 2 and 3: Open your arms while hopping to the right on your right leg.
Trivia
Gallery
Game Files
In-Game Screenshots
Behind the Scenes
Others
Videos
References