No Man's Sky Update - The Loop
Play Sound
Remove the bandaids!

This article contains images or videos with watermarks. If possible, please replace them with non-watermarked media.
"Heavy Cross" by Gossip is featured on Just Dance 4 (as a downloadable track), Just Dance Now, and Just Dance Unlimited.
Appearance of the Dancer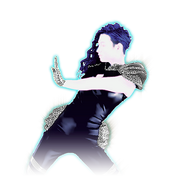 The dancer is a woman, with blue hair with the right side shaved and the right side laying on the left. She wears a complete black leather outfit with silver, glittery shoulder pads and other highlights with the same look, and a pair of black leather pumps.
During the chorus, her hair turns red and the silver parts of her outfit turn golden.
Background
At the beginning of the routine, the coach is dancing in a pitch black scenery and according to the music, some glass rectangles will be appearing. Then, some kind of windows emerge from the floor and when the chorus is sung, these windows break and turn into yellow and the scenery turns into a floating platform, with a huge red light overwhelming the coach from behind. At some points of the choreography, blue lightning bolts hit the floor.
In the last chorus, the platform is absent and the glass pieces flow towards the screen.
Gold Moves
There are 3 Gold Moves in this routine, all of which are the same:
All Gold Moves: Strike your right fist to the right.
Heavy Cross appears in Party Master Modes. Here are the captions attributed to the dance moves:
Appearances in Playlists
Heavy Cross is featured in the following playlists:
Just Dance Now
Trivia
The line "It's up to me and you to prove it" first appears in one line. However, for the rest of the song, it is shown in two lines (It's up to me and you/to prove it).
In the Just Dance Now pictogram sprite for this song, there are 10 beta pictograms.
The arrows on one of the pictograms are yellow instead of grey when the dancer is not in her other form (with the gold glove).
The line "On the rainy nights, even the coldest days" is misinterpreted as "All the rainy nights, even the coldest days".
Gallery
Game Files
In-Game Screenshots
Promotional Images
Behind-the-Scenes
Beta Elements
Others
Videos
Official Music Video
Gameplays
Extraction
References