"The Boss"[2] by Neil Sidwell and Keith Beauvais[1] is featured on Just Dance 2021 as part of Kids Mode. The song is titled "Here Comes The Spy" in-game and it is credited to The Step Brigade.
Appearance of the Dancers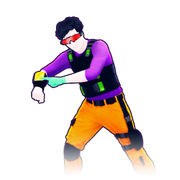 The dancer is a man that resembles a spy. He has dark gray wavy hair. He wears red spyglasses, a purple shirt, a black spy vest with lime and dark green pockets, and orange spy pants with a black belt, pockets, straps, and black kneepads. He also wears a pair of black combat boots. A black cuff with a yellow touchscreen pad is worn around his left forearm. He has a cyan glove and a solid black and white outline.
Background
The background is a site where there are lights trying to find the coach. The coach bends down to hide from these lights. In the end of the choreo, it is finally revealed that the coach was trying to free the Just Dance reindeer who was trapped in a cage.
Gold Moves
There is 1 Gold Move in this routine:
Gold Move: While facing the right side, bend over slightly and punch the air in a right downwards diagonal motion, as if you are pushing a button.
Trivia
Gallery
Game Files
In-Game Screenshots
Behind the Scenes
Videos
References
Community content is available under
CC-BY-SA
unless otherwise noted.