"Holding Out for a Hero" by Bonnie Tyler is featured on Just Dance 2015, 舞力全开2015, Just Dance Unlimited, and Just Dance Now.
Appearance of the Dancer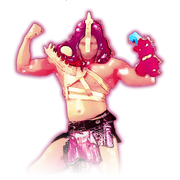 The dancer is a man with pink skin (different from many of the other dancers, who are usually white). He wears a hot pink gladiator helmet over his pink hair with a horn on top, gold armor straps, dark purple bottoms, a pink fluffy wristband, and pink fluffy boots.
Background
The background is in space with crazy animals (mostly cats) doing crazy things (such as laser shooting), and sometimes it turns in a rainbow with a yellow pony or a colorful tunnel, with watermelons hitting the dancer, who is on a steel rocket that is flying through the air.
Gold Moves
Classic
There are 4 Gold Moves in the Classic routine:
Gold Moves 1, 3, and 4: Pull both hands away from your head.
Gold Move 2: Jump with your right hand raised, and your left hand on your left leg with your feet widened.
Mashup
There are 3 Gold Moves in the Mashup:
Gold Moves 1 and 2: With your arms up, move your arms in a "360" degree angle. (Tribal Dance)
Gold Move 3: Tap on your head while moving to the right. (I Love It (Guards Dance))
Holding Out for a Hero has an unlockable Duet Mashup. Its theme is Cray Cray Duet and contains fast paced duets acting wild.
Dancers
[GM#] - indicates a Gold Move. The # refers to the Gold Move's number.
Tribal Dance [GM1]
Moskau
One Thing
C'mon
Speedy Gonzalez
Timber
Tribal Dance [GM2]
One Thing
Speedy Gonzalez
Xmas Tree
Moskau
One Thing
C'mon
Gangnam Style
Speedy Gonzalez
Xmas Tree
I Love It (Guards Dance) [GM3]
Moskau
C'mon
The Fox (What Does The Fox Say? (Campfire Dance)
Gangnam Style
Speedy Gonzalez
Just a Gigolo
Holding Out for a Hero has a Party Master Mode. Here are the captions in order of appearance: (Captions in bold indicate a song switch).
Holding Out for a Hero
Holding Out for a Hero
Holding Out for a Hero is featured in the following Mashup:
Holding Out for a Hero appears in Party Master Modes. Here are the captions attributed to his dance moves:
Biceps Spin
Flex
Muay Thai
Muscle Sound
Running Muscles
Holding Out for a Hero has a Community Remix. The following are featured:
RAS310 [USA]
Noe Pot [Argentina]
ProfuseGraph [USA]
Merv444 [Canada]
TyranosorusReks [Canada]
Just Dancer [USA]
GotBasket125612 [USA]
gomezorante [Mexico]
Just Dancer [France]
RatedToaster853 [Brazil]
cyberpump [USA]
Just Dancer [Japan]
Just Dancer [Colombia]
Dark Angel 510 [Mexico]
bondi96 [Germany]
shienanigans [USA]
ZippedPrune9333 [Israel]
Just Dancer (Texblock) [Germany]
Just Dancer [USA]
Danmata [Brazil]
nijishoujo [USA]
dtacoms [USA]
Just Dancer [Chile]
DeafRickxcore [Chile]
Just Dancer [Brazil]
Julia Razama 11 [Brazil]
Sabbihjort [Norway]
Yelrihs [Brazil]
Joseiiin97 [Mexico]
mzompicchiatti [Argentina]
Just Dancers [Various]
Stalhito [France]
MaleFiCuXxX [Mexico]
Just Dancer [Germany]
Electropetsha [Mexico]
Holding Out for a Hero is featured in the following playlists:
Just Dance 2019
The Epic 80s
With Great Power...
Just Dance 2015
Just Dance 2020
The Epic 80s
With Great Power...
Just Dancers...assemble!
Just Dance 2015
Just Dance Now
Galactic Groove!
Just Dancers...Assemble!
Old But Gold 80s
Hall Of Fame
The Best of '80s & '90s!
All Songs F-J
Trivia
General
Classic
Holding Out for a Hero is the fourth routine to involve a split, after Body Movin' (Fatboy Slim Remix), Maniac, and Flashdance ... What a Feeling.
Most of the elements in the background are inspired from Internet phenomena. Notable examples are the Space Wolves, the Space Cat, the zebras that create rainbows with their tails (inspired from the pony in asdfmovie 5, 6 and deleted scenes), poor-quality explosions, watermelons that are split with a kick (resembling Fruit Ninja), and the presence of a boss.
When the sword disappears, it kind of glitches out instead of having a smooth transition.
On the website justdanceworld.com, it was said that Aurélie Sériné would dance to Holding Out for a Hero while she was a VIP on the World Dance Floor. However, this never happened.
On Just Dance Now, there was an error in which Holding Out for a Hero's avatar would be unlocked by playing Macarena. This was later fixed.
Holding Out for a Hero appeared in the Beta icons of some cups in Dance Quest.[5]
The space wolves in the background return in the Showtime of When The Rain Begins To Fall.
On the World Dance Floor in Just Dance 2017, three of the cats in the routine appear as bosses.
A sticker of the "HERO" sign in the background can be unlocked in Just Dance 2020 through the Gift Machine.
On March 12th, 2020, Holding Out for a Hero became free on Just Dance Unlimited.
Mashup
Unlike other Duet Mashups within Just Dance 2015, the gender sides will change. For example, C'mon which features a female as P1 and a male as P2, transitions to Moskau, where the situation is the opposite.
On the menu icon, the coaches from C'mon make the poses from their coach selection images and not the ones from the menu icon.
There is a glitch in the camera console versions of Just Dance 2015: when players select the coach they want to follow, their names are not displayed.[citation needed]
Party Master Mode
This is the only Party Master Mode on Just Dance 2015 where the original dancer is a male.
Community Remix
At the end of the song, a thank you message from the Just Dance team will pop up saying: "You are our Heroes. Thank you, see you on Just Dance 2016!"
Two girls from Japan cosplaying as the coaches from Die Young are featured.
During the split part, the screen divides into four parts: the fourth one shows the original coach and is placed at the bottom right, and all the others show various players who try to perform the split. Those players are credited as "Just Dancers" and their attributed avatar is the one for Holding Out for a Hero.
Gallery
Game Files
In-Game Screenshots
Promotional Images
Others
Videos
Official Music Video
Gameplays
Classic
Others
Extraction
References
v - e - d

Puppet/Party Master Modes