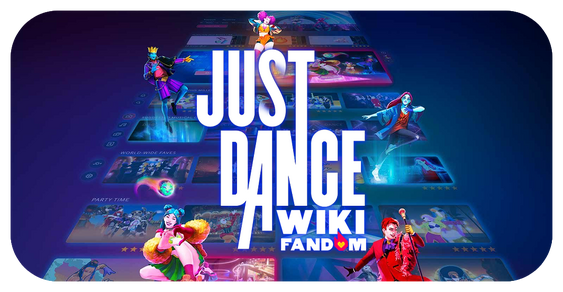 Welcome to the Just Dance Wiki! This wiki is about the #1 dance video game series in the world, Just Dance!
The Just Dance series originated with the Just Dance Wii game in 2009, which has players follow the dance movements of on-screen figures with popular songs playing in the background. Players can try solos, duets, trios, and quartets, and a number of alternate routines. The series has seen a number of additional titles, including the most recent game, Just Dance 2022, which was released in November 2021. The award-winning series has also had a kids sub-series starting with Just Dance Kids (2010), as well as several mobile apps, including Just Dance Now (2014).
Before going elsewhere on the wiki, read the rules fully so you don't get punished!
After you have read them, you can continue onward with your adventure.
We currently have 1,760 articles, but you're welcome to add more if something new is announced!
Need help navigating the wiki? Have a question about some information? Problem dealing with other users? Feel free to talk with the active bureaucrats CAMERAwMUSTACHE, JD4SURVIVOR, and Master Hydraffe, or with our active admins: Jackboog21 and TheChibiKing. Post on their message wall, and they will reply as soon as possible!
---
Other languages: Deutsch | Español | Français | Italiano | 日本語 | Polski | Português | Português do Brasil | Română | Pусский | Tagalog | Türkçe‬ | 中文
Featured Video
Blogs
Blogs
This is a blog post that contains of the latest information concerning of Just Dance Now playlists, which covers on the notifications, messages and selected songs. Do note, however, that this blog will only cover recently added playlists that have a fixed number of songs.
Once information of the pla…
Every song in the Backtrack playlist
MOOD
KABOOM POW
CRAZY CHRISTMAS
A LITTLE PARTY NEVER KILLED NOBODY (both versions)
SWEET SENSATION

DANCE TO THEM BEFORE THEY ARE REMOVED AGAIN!!!!!!
Just Dance Unlimited Party 2 is sequal to Just Dance Unlimited Party 1 and also a fanmade game blog created by Princetheflufboi.
1

Gameplay and Features

2

Menu & Design

3

Tracklist

4

Alternate Routine

5

DLC's
Quickplay Mode: Get straight to playing with a randomized playlist ready from the Start menu.
Co-op Mode:…
See more >