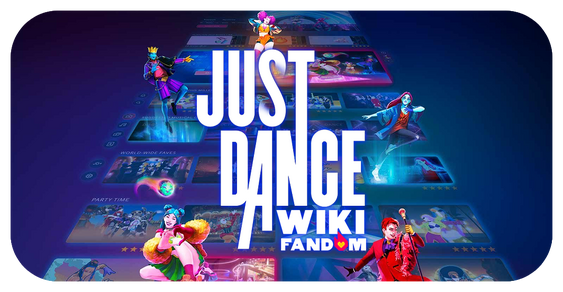 Welcome to the Just Dance Wiki! This wiki is about the #1 dance video game series in the world, Just Dance!
The Just Dance series originated with the Just Dance Wii game in 2009, which has players follow the dance movements of on-screen figures with popular songs playing in the background. Players can try solos, duets, trios, and quartets, and a number of alternate routines. The series has seen a number of additional titles, including the most recent game, Just Dance 2022, which will release in November 2021. The award-winning series has also had a kids sub-series starting with Just Dance Kids (2010), as well as several mobile apps, including Just Dance Now (2014).
Before going elsewhere on the wiki, read the rules fully so you don't get punished!
After you have read them, you can continue onward with your adventure.
We currently have 1,733 articles, but you're welcome to add more if something new is announced!
Need help navigating the wiki? Have a question about some information? Problem dealing with other users? Feel free to talk with the active bureaucrats CAMERAwMUSTACHE, JD4SURVIVOR, and Master Hydraffe, or with our active admins: Jackboog21 and TheChibiKing. Post on their message wall, and they will reply as soon as possible!
---
Other languages: Deutsch | Español | Français | Italiano | 日本語 | Polski | Português | Português do Brasil | Română | Pусский | Tagalog | Türkçe‬ | 中文
Featured Video
Announcements
Blogs
Blogs
Just Dance: Reallynotsmart Edition is a dance game developed and published by Reallynotsmart.
An asterisk (*) indicates that the song is covered in-game.
A █ indicates that the song is playable on the demo version.
A (BBE) indicates that the song is featured in the Best Buy Exclusive Edition of the game,…
here are some songs I want them to add to Just Dance 2023 so pumped for it
1

Tracklist

2

Alternate Routines

3

Just Dance Unlimited
An asterisk (*) indicates this song is covered in-game.
An (I) indicates that this map requires an internet connection to be played. Maps in this category were …
DatCat11
•
This is basically a fanmade songlist containing a ton of songs I have wanted in JD at some point.
10 songs revealed so far, 30 to go.
Song name
Artist
Difficulty
Effort
Dance Mode
Square
2099
Charli XCX ft. Troye Sivan
Hard
Moderate
Solo
Bim Bam toi
Carla
Easy
Intense
Trio
Dangerous
David …
See more >