Raise a Floppa - The Loop
Play Sound
"Human" by Sevdaliza is featured on Just Dance 2022 and 舞力无限.
Appearance of the Dancer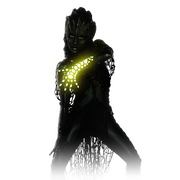 The coach is conceptualized as a creature that had been captured by mankind before escaping and finding safety in a cave in the depths of the ocean.[2]
The coach is a female humanoid with black skin, with black curly and ragged hair. Her head has curled portions in the upper portions of her head, with bumpy sections and sharp ridges at her forehead. She wears a black fishnet-styled ensemble, which consists of a black bra, detached sleeves with bell-shaped fishnet-styled hanging sleeves, and long fishnet-styled loincloth, with each piece of the ensemble connected by thick ropes. The skin in her arms and legs are bumpy, with the bumps in her right forearm and hand shining faint golden light.
Background
The map starts with a title card of the word "HUMAN" imposed next to a zoomed-in shot of the coach's face. The camera then pans and zooms out to show that the routine is taking place within an underwater cave.
The coach stands upon a disc-shaped granite platform into which an emblem has been engraved. A bright light beam illuminates this platform, alternating between shining from an angle and directly above the coach. The rest of the cave's interior is seen to be decorated with stony dragon pillar which bear coils that have been carved into a scaly, reptilian appearance; these pillars appear to have toppled from their free-standing positions. Throughout the cave, there is a distribution of rock formations and cave openings through which waterfalls can be seen pouring down, glistening in the beam of light. Occasionally throughout the routine, blurry images of the coach's visage are superimposed onto the screen, creating a sense of disorientation.
Gold Moves
There are 2 Gold Moves in this routine:
Gold Move 1: Lower your arms to the ground and open your legs, similar to a spider.
Gold Move 2: Lean to the right and push your arms in front of you.
Trivia
The game uses the music video edit of the song, in which the intro is omitted.
The coach for Human was used to represent Scorpio in promotional tweets for Season 1: Astral by @justdancegame.[3][4]
Gallery
Game Files
In-Game Screenshots
Promotional Images
Behind the Scenes
Others
Videos
Official Music Video
Gameplay
References