"I Get Around" by The Beach Boys is featured on Just Dance, Just Dance Now, and Just Dance Unlimited.
Appearance of the Dancer
Original
The dancer is a man who wears a teal and orange flower patterned shirt with a singlet under it, and orange flippers on his feet.
Remake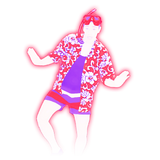 In the remake, the appearance stays the same, however his shirt and goggles are red, and his singlet and flippers are purple.
Background
Original
The background is an image of a beach at sunset. It has 3 palm trees and birds that fly by occasionally.
Remake
The sunset is in a slightly lighter color. The palm trees are all more spread apart.
Gold Moves
In the remake, there are 2 Gold Moves in this routine. They happen consecutively:
Gold Move 1: Open your arms in a left-diagonal fashion as if you are surfing.
Gold Move 2: Similar to the previous move, but in a right-diagonal fashion.
I Get Around appears in Party Master Modes. Here is the caption attributed to his dance moves:
Appearances in Playlists
I Get Around is featured in the following playlists:
Just Dance 2019
Just Dance Now
Deep Sea Dancin'
Ready Player Dance
Sun, Sand, and Sea
All Songs F-J
Just Dance Unlimited
Unlimited F-J
Sun, Sand, and Sea
Trivia
General
Routine
Similar to Jerk It Out and Cotton Eye Joe, the beta routine had the dancer in a brief cartoonish version and the dancer's face was more visible.
The dancer has an avatar in Just Dance 2014 that can be unlocked by reaching Level 750 on the World Dancefloor.

The avatar uses the Just Dance version of the coach instead of the remake version.

The dancer appears in the Puppet Master Mode for Rock n' Roll (Will Take You to the Mountain), where his shirt is mostly red instead of green.

A similar color scheme also appears in the remake, with all the green parts changed to light purple.

On Just Dance Now, unlike many other routines, the routine originally did not have any Gold Moves. This could be attributed to the fact that the song was never in a game which came with the feature.

This is the first Just Dance Now song to come directly from Just Dance and without any appearances in any prior game.

As of April 24, 2015, two Gold Moves have been added.

The remade dancer reappears in ​Just Dance 2018 as an unlockable sticker.
A sticker of the coach can be unlocked in Just Dance 2020 by dancing to Tel Aviv three times.
The avatar of the song was updated Just Dance 2020.
Gallery
Game Files
In-Game Screenshots
Beta Elements
Others
Videos
Official Music Video
Gameplays
Extractions
References
Community content is available under
CC-BY-SA
unless otherwise noted.