Roblox: DeepWoken - The Loop
Play Sound
"I Love It" by Icona Pop featuring Charli XCX is featured on Just Dance 2015 and 舞力全开2015. The song can also be found in the files of Just Dance Unlimited.[1]
Appearance of the Dancer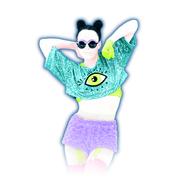 The dancer is a woman with black hair tightly tied in three knots up to the sides and the back, black and lilac sunglasses, a glittery, loose aqua crop top with a lime eye with eyelashes on it over a lime cropped shirt, lilac furry shorts, pink thigh high socks being connected to the shorts by lime green garters, and black patent creepers with lilac accents. Her glove is lime green. She has a ocean blue outline.
Background
The background has many 3D neon lights. There is the title name written in neon lights and the 3D lights and blocks moving around together. In some parts, there are lips in the background singing to the phrase "I don't care." The screen zooms and pans around the dancer throughout the song.
Gold Moves
Classic
There are 4 Gold Moves in the Classic routine:
Gold Moves 1, 2, and 3: Cross your right arm in front of your body while kicking with your left leg.
Gold Move 4: Swirl your arms to your head.
Mashup
There is 1 Gold Move in the Mashup:
Gold Move: Swirl your arms to your head. (I Love It)
I Love It has a Mashup with the theme Best of JD 2014. It only features Just Dance 2014 dancers (the original dancer not withstanding).
Dancers
[GM] - indicates a Gold Move.
I Love It
Gentleman
Gentleman
Where Have You Been
I Kissed a Girl
Just Dance
Sexy And I Know It
I Love It [GM]
I Love It has a Community Remix.
The following are featured:
littlesiha [USA]
luchoprado1995 [Poland]
Ungezogen [Mexico]
SoToSendoCadu [Brazil]
chris_mcgoo72 [USA]
Kondzix06 [Poland]
TrovadorDowning [Chile]
MsbowElite1 [USA]
Fatbirdy12 [USA]
AttemptedFaun09 [Mexico]
Tulioakar96 [Brazil]
wfilinski [Netherlands]
Anderlini [Canada]
HopedSaturn6664 [USA]
Foxywavre [Belgium]
Poutaf [France]
Julia Hazama 11 [Brazil]
TexBlock [Germany]
That Boca Babe [Canada]
I Love It is featured in the following Mashups:
Trivia
General
I Love It is the first song by Charli XCX in the series.
The official clean version is used, where "s**t" is replaced with "stuff" and "b**ch" is replaced with "chick". "Damn" is censored separately.
There was supposed to be a VIP routine for I Love It featuring Katy Perry, but it wasn't released.[2]
Files for an unused Party Master Mode can be found among data for Just Dance 2015.[3]
Classic
Happy and I Love It are the first two routines in the franchise to apply close zoom on the coach's face.
An unused pictogram can be seen in both preview gameplays.
The coach can be seen on the front cover of the NTSC version of Just Dance 2015 with a starkly different color scheme.
I Love It was one of the routines selected for the Just Dance 2015 World Cup.[4]
Despite the coach making an appearance in the trailer for Just Dance Unlimited, I Love It is currently not available in the service.
The coach's top is worn by Natoo in Je sais pas danser and the music video for the song.
Mashup
Gallery
Game Files
In-Game Screenshots
Promotional Images
Beta Elements
Others
Videos
Official Music Video
Gameplays
Classic
Others
Extractions
References