Fire Emblem Warriors: Three Hopes - The Loop
Play Sound
I wonder where were you...

This page concerns content that has been shelved or removed from the series. Before updating this article, please ensure the veracity and verifiability of the information. Remember to cite your sources.
"In the Hall of the Pixel King" by Dancing Bros. was meant to be featured on Just Dance 2017, but it was scrapped. A new and different routine was created for the song and released in Just Dance 2018.
Appearance of the Dancer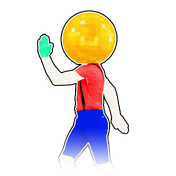 The dancer is a man whose head is encased in a golden disco ball. He wears a red short-sleeved shirt, blue shorts with black suspenders, green ankle socks, and black and red sneakers.
Background
The background is predominantly based off of 1980s 8-bit arcade games. The man is seen in a dark cave with stalactites falling. Two Jack-o-Lanterns arise from spurts of lava, who are defeated by the man's musical notes, which he shoots from his arms. The background turns green with metal pillars and pink flying dragon heads. The background turns into a purple wall with orange and black rocks on the outside.
Gold Moves
There is 1 Gold Move in this routine:
Gold Move: Move your left arm to your left side and put your right arm up.
Trivia
General
Routine
The coach was going to be the second coach to have a disco ball for a head, the first being the unknown coach used in numerous Just Dance 2014 Mashups.
On the menu square and coach selection image for the scrapped routine, the dancer is not pixelated; however, in the actual gameplay, album coach, and coach selection image, he is.
The album coach has no outline.
Some of the pictograms reference Soulja Boy and Usain Bolt in their names.[1]
The song is referenced in the PEGI rating summaries for the game, despite it being not featured in the final game[2]: "Features occasional, very mild violence in a comical context. The backdrop to the song 'In the Hall of the Pixel King' portrays a pixelated video game. Players shoot energy balls at enemies by dancing. These enemies disappear in a harmless fashion."
The pixelated heads of Da Funk (P2), Hey Boy Hey Girl, and This is Halloween (P3 and P4) appear in the background as enemies.
Gallery
Game Files
In-Game Screenshots
Please note that these screenshots are from a mod version of Just Dance 2017 and are only used to show how the track would have appeared had it been kept in the game.
Beta Elements
Behind the Scenes
Others
Videos
References