"John Wayne" (Extreme Version) is playable on Just Dance 2018, where the routine can be unlocked on 8th-generation consoles and the Nintendo Switch from the Gift Machine, and through normal gameplay on 7th-generation consoles. The routine also appears on Just Dance Now and Just Dance Unlimited.
Appearance of the Dancer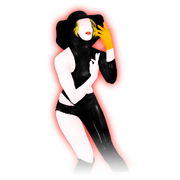 The dancer is dressed the same way that Lady Gaga is on the music video. She wears a black sun hat with short blonde hair underneath. She wears a latex leotard that covers her foot, half chest, and right arm. She also wears high heels that match her outfit.
From the bridge to the end of the final chorus, her skin is more yellowish.
Background
The routine takes place in an old-fashioned station with five ancient locomotives, a big arch with iron decorations and many swirls on the floor. During the intro, there is some smoke floating around and the scenery lights up slowly.
In the verses, the station is lit by many lights on the locomotives and the floor, which are in shades of red and match the beat of the song; in the pre-chorus, instead, they are blue.
As soon as the chorus starts, the camera zooms in and the locomotives on the sides exude some smoke from their chimneys. A huge light overwhelming the one in the middle starts to shine. The environment is now in shades of yellow and pink, and the swirls on the floor are black.
In the bridge, the scenery is yellow, with a huge light behind the locomotive in the middle, a lot of fog and some sparkles around.
In the final part, the lighting initially keeps the colors in the chorus, and then it gets darker and turns mostly red.
Gold Moves
There are 3 Gold Moves in the Extreme Version routine, all of which are the same:
All Gold Moves: Turn your head to the left, bend your left leg slightly, and punch towards the right of the screen.
John Wayne (Extreme Version) is featured in the following playlists:
Just Dance 2018
Just Dance 2019
Just Dance Now
Trivia
General
Main article: John Wayne#General
Routine
The coach's outfit draws inspiration from Lady Gaga's wardrobe in the music video for John Wayne.
Four pictograms of the routine are called "harley_po", "harleyshake_sh", "harleylegs_sh" and "harleylegsright_sh", referencing American motorcycle brand Harley-Davidson.[3]
The Just Dance Now files for the routine have three additional placeholder half coaches.

Besides, the bundle lacks the cover.
Gallery
Game Files
In-Game Screenshots
Promotional Images
Others
Videos
Gameplays
Extraction
References
v - e - d

Puppet/Party Master Modes
Community content is available under
CC-BY-SA
unless otherwise noted.