No Man's Sky Update - The Loop
Play Sound
"Kitchen Kittens" by Cooking Meow Meow is featured on Just Dance 2020, Just Dance 2022 and 舞力全开 as part of Kids Mode. It also appears on Just Dance Now and Just Dance Unlimited.
Appearance of the Dancer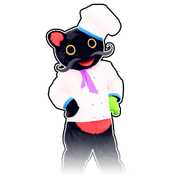 The coach is the cat from Magic Halloween and Shinobi Cat. He is a black humanoid cat with yellow eyes and red inner parts of his ear and mouth. Sitting on the right ear is a white chef's hat, with a blue brim on the bottom. He wears pink scarf on his neck and a chef's upper uniform, which is white and has blue edges on the sleeves, that partially exposes his red underbelly. He also has a black Italian mustache on his nose. He has a black and white outline.
Background
The routine starts with a cyan-pastel pink background with bowls, cheese blocks, pancakes and various cooking utensils. Four purple animated cats can be seen crying.
During the routine, the coach will cut some vegetables such as tomatoes and carrots, mixing them in a cooking pot and proceeding to feed the cats one at a time as they pop up on the screen.
After that, the background changes to two blenders, one with lettuce, an eggplant and blue garlic, and the other already mixing a yellow-mustard soup. Then, it shows dough being rolled out and some eggs being broken.
The routine ends with the four cats eating green cheese; then, a heart shape closes the routine while the coach strokes his belly.
Gold Moves
There is 1 Gold Move in the routine:
Gold Move: Facing left, lean over with both arms in front of you, as if you were catching an omelette with a frying pan.
Kitchen Kittens is featured in the following playlists:
Just Dance Now
Trivia
Gallery
Game Files
In-Game Screenshots
Promotional Images
Others
Videos
Gameplays
References