"Kulikitaka" by Toño Rosario is featured on Just Dance 2021 and Just Dance Now. The routine also appears on Kids Mode. The song was also available on Just Dance Unlimited for a week as part of Season 4: It's Showtime.
Appearance of the Dancers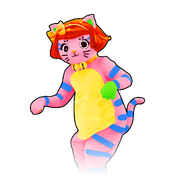 The dancer is a female cat. She has a pink body with blue stripes, an orange nose and paws, black whiskers, and eyes with long eyelashes. She has short scarlet orange hair with bangs and a headband with a light orange bow in it and yellow paws. She has a yellow belly and blue stripes on each arm and leg. She has an orange collar with two yellow sleigh bells. She has a solid black and white outline. The insides of her ears are lime and her right hand is also colored lime.
Background
The background features brightly-colored rectangles and orange, red, yellow, lime green and blue colored tabby cats being held up by pairs of human hands. Vignettes of their paws also appear occasionally.
Gold Moves
There are 2 Gold Moves in this routine:
Gold Move 1: Shake your hands, and move them down while shaking.
Gold Move 2: Move your arms in a circle, and lift your right leg up.
Kulikitaka is featured in the following playlists:
Just Dance 2021
Just Dance Now
Trivia
Kulikitaka is the second out of four songs from Just Dance 2021 to be released as part of Season 4: It's Showtime on Just Dance Unlimited.
"Kulikitaka" is spelled "Kulikitaca" in the lyrics.
The song was leaked on the developer version of Just Dance Now, along with Ice Cream.
The song has been trimmed from the album recording, removing the intro, approximately 25 seconds of instrumental break after the second chorus, and a parallel segment after the final chorus.
Gallery
Game Files
In-Game Screenshots
Promotional Images
Others
Videos
Official Music Video
Gameplays
Extraction
References