"Lacrimosa" by Apashe is featured on Just Dance 2021 and Just Dance Now.
Appearance of the Dancer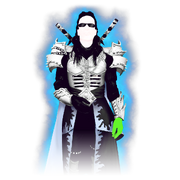 The coach is a male knight. He has long black hair in dreadlocks and a pair of sunglasses. He has a large set of armor and a cape that goes down his legs. He has a fire-like outline that fades around his shoes. In some parts of the song, his armor turns into silver or red and yellow.
Background
The routine takes place inside a cathedral. It starts at the bottom of the cathedral and then we can see a stained glass representing a priest with ginger hairs on a side, and on the opposite side there's a stained glass representing a devilish monster with horns. This cause the cathedral to slowly turn upside down and it fades to red. In the chorus of the song, the background becomes fully red and it scrolls down slowly. Angel statues and other cathedral debris fly past the coach. At the end of the routine, we can see the devilish monster that resembles a dragon with flashing red eyes.
Gold Moves
There is 1 Gold Move in this routine:
Gold Move: Kneel on your right knee and touch the ground with your right hand while placing your left arm behind your back.
Lacrimosa is featured in the following playlists:
Just Dance 2021

This section has content which remains to be confirmed! You can help by adding to it. Remember to cite!

Trivia
The lyrics "That was Mozart" and "I'm sorry", both of which are samples from the 1984 film Amadeus, are covered. This makes Lacrimosa the third song in the series to be partially covered, after Good Feeling and Sweet Sensation.

It is the first partially covered song that is not by Flo Rida.

Additionally, the lyrics "I didn't know you wrote that" and "I didn't" are replaced with "Do you know who this is?" and "I don't." respectively.

Lacrimosa was leaked through the Just Dance Unlimited servers by the codename, alongside Adore You, Joone Khodet, Kick It, and Rare.
Lacrimosa's menu icon is the second one in the Just Dance franchise (first in the main series) where the coach's back is turned towards the screen, after One Night Carnival.
The routine has been recorded in more than one take, as shown by a glitchy transition that happens during the first chorus.
Two pictograms' filenames misspell "puppet" as "pupper."[2]
A placeholder menu banner can be found in the Just Dance Unlimited servers.[3]
Playing Lacrimosa twice in Just Dance 2021 unlocks a sticker with the caption "And that's a failure".
In the Just Dance Now cover, the album background is replaced by a default one.
Gallery
Game Files
In-Game Screenshots
Promotional Images
Behind the Scenes
Others
Videos
Official Audio
Gameplays
References
Community content is available under
CC-BY-SA
unless otherwise noted.