Fire Emblem Warriors: Three Hopes - The Loop
Play Sound
"Level Up" by Ciara is featured on Just Dance 2022, 舞力无限 and Just Dance Now.
A VIP-Made Version performed by Énola Bédard is also available on Just Dance 2022 as a Canadian exclusive where an Internet connection is required to play the routine. The routine requires a Just Dance Unlimited subscription to access outside of Canada. The routine is also available in 舞力无限.
Appearance of the Dancers
Classic
The routine is a trio of women dressed in athletic clothing, inspired by American football uniforms. They all have exaggerated makeup, including black eyebrows and eyeliner, P1/P3 have a peach-orange lipstick while P2 has a purple lipstick, and red stripes in their cheeks. They all have a glowing outline that changes corresponding to the colors of the background.
P1/P3
P1 and P3 are women with hot pink curly hair styled into two small buns atop their heads. They wear a cropped teal sports jersey featuring the number "08" in black and yellow. Beneath the jersey is a black brassiere and dark blue denim shorts with yellow borders and a single yellow button on the top. They also wear black knee-length socks with a yellow stripe and a pair of yellow and black high-top sneakers. They accessorize with two gold chain necklaces and elbow pads on both arms, one black and the other teal and yellow. Their gloves are violet.
P2
P2 has long black hair, styled into a ponytail through the back of a reddish pink cap that has an "8" in yellow. She wears a teal and yellow sports bra with a large football shoulder pad overtop on her left shoulder. Her bottoms are a pair of black and reddish pink athletic shorts with turquoise underwear visible above the waistband. She also wears teal knee-length socks with black kneepads and reddish pink and black high-tops. She accessorizes with a few smaller gold chain necklaces and gold bangle bracelets. Her glove is lime green.
VIPMADE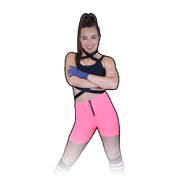 The dancer is Canadian social media personality Énola Bédard. She wears a black sports bra and light pink athletic shorts with a periwinkle glove. She also wears black socks that have two pink stripes at the top, as well as black sneakers with loosely tied laces. Her hair is tied into a ponytail.
Background
Classic
The routine takes place in a black void with what seems to be fog in the background. Many designs appear on it, with the colors consisting of hot pink, lime green and orange. During the pre-choruses, the design appears as broken glass shards. During the chorus and verses, the lyrics of the song appear on it. During the bridge, the background becomes a horizontal rainbow gradient that follows the coach's movements.
VIPMADE
The routine takes place in a gym where "Level Up" can be seen written in large black letters on the wooden wall. To the left of the dancer are three exercise balls; one green, one blue, and one red. At various points during the routine the camera will zoom in and out and text that says "VIP MADE LEVEL UP by Énola Bédard" will pop up on the right.
Gold Moves
There are 3 Gold Moves in this routine. Gold Moves 1 and 2 are done consecutively:
Gold Move 1: Hit the air on your right side with your elbow by closing your right arm in front of your chest and pushing it towards the right; while doing so, P2 bends her left knee.
Gold Move 2: While facing the right side at 45°, put your arms behind your head by bending them 45°, and hit the air behind you with your elbows by pushing them in that direction.
Gold Move 3: Bring both arms to your chest with your legs opened and the upper part of your body slightly bent to the right.
Trivia
General
Level Up is the first song by Ciara in the main series.
Level Up is shortened approximately by 4 seconds.
Classic
Level Up is the thirteenth routine to feature Gold Moves that appear consecutively, after I Want You Back, Jump, Proud Mary, Should I Stay or Should I Go, Sympathy For The Devil, When I Grow Up, Funplex (CSS Remix) (in Just Dance 3), Fancy, William Tell Overture, This Is How We Do (Fanmade), and Sax.
P2's recording was done in two takes, as seen by a cut right before the second chorus.

The same thing happens with P1 and P3 a few beats later.

Parts of the choreography from the official music video have been incorporated into the routine.
In "Just Dance 2022: Official Song List - Part 1" and the preview, the pictograms are default-colored and the pictogram bar is turquoise instead of light yellow.
VIP-Made Version
Level Up (VIP-Made Version) is the first VIP routine since New Reality's to reuse the Classic choreography.
As opposed to most Solo maps, the Gold Move pictograms for Level Up (VIP-Made Version) are more ochre yellow than golden-brownish. It is the only instance in the Just Dance series.
In the UK preview, a promotional gameplay screenshot is used as the thumbnail.
Gallery
Game Files
In-Game Screenshots
Promotional Images
Behind the Scenes
Others
Videos
Official Music Video
Gameplay
References
v - e - d

Puppet/Party Master Modes