"Lights" by Ellie Goulding is featured on Just Dance 2016, Just Dance Now, and Just Dance Unlimited.
Appearance of the Dancer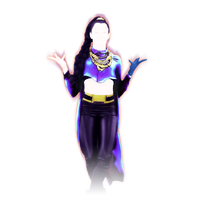 The dancer is a woman with long black hair tied in a braid that rests on her left shoulder. She wears a neon purple caped shirt, dark purple leggings, blue heels, and golden jewelry. Her top and cape turn red during the chorus.
Background
The routine takes place in what seems to be a galactic field of stars. Pink lights circle and lock around followed closely by orange lights spinning around. During the chorus, a huge white light appears in the center of the background. There are also more orange lights, and the pink lights disappear. The lights follow the dancer's movements.
Gold Moves
Classic
There is 1 Gold Move in this routine:
Gold Move: Make a circle with your arms.
Mashup
There are 2 Gold Moves in the Mashup, both of which are the same:
Both Gold Moves: Clap twice with your hands in front of you. (Maps)
Lights has a Mashup with the theme of Pink Hair, which can be unlocked with 1000 Mojo Coins (or 20 Mojo Coins for the Wii). It features dancers with pink hair. It is only available for the Wii and eighth-generation consoles.
Dancers
Big Girl (You Are Beautiful) (Remake)
Maps [GM1]
Just Dance
I Will Survive
You Make Me Feel...
Big Girl (You Are Beautiful) (Remake)
Maps [GM2]
Just Dance
Oh No!
Chiwawa
Just Dance
U Can't Touch This (Remake)
I Will Survive
Just Dance
Oh No!
Chiwawa
Just Dance
U Can't Touch This (Remake)
Big Girl (You Are Beautiful)
Chiwawa
Lights appears in the following Mashup:
Lights makes an appearance through Party Master Modes.
Fire Goddess
Grab 'Em All
Praise The Sun
Throw Down
Lights is featured in the following playlists:
Just Dance Now
Galactic Groove!
Groovy Queens!
All Songs K-R
Trivia
General
Lights is the third song by Ellie Goulding in the series.
The game uses the radio edit, in which the first verse and chorus use the same instrumental track as the second verse and second and third choruses.

In addition, the track is shortened at the bridge and ending.
Classic
The background tracks the movements of the song and the dancer, much like in Blame. Véronique Halbrey, the creative director of Just Dance, refers to this by calling the dancer "a kind of galactic warrior who can just change a universe thanks to her dance moves".
This is the third song to have a galaxy themed background, after I Feel Love and Crazy Little Thing.
Two beta pictograms for the routine can be found in the Just Dance Now files.[2]
Gallery
Game Files
In-Game Screenshots
Promotional Images
Behind the Scenes
Beta Elements
Others
Videos
Official Music Videos
Gameplays
Classic
Mashup
Showtime
Extraction
Beta Elements
References
v - e - d

Puppet/Party Master Modes
Community content is available under
CC-BY-SA
unless otherwise noted.