"Louie Louie" by Iggy Pop is featured on Just Dance and Just Dance 3 as an Xbox DLC.
Appearance of the Dancer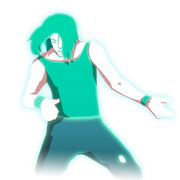 The dancer is a man with long aqua blue hair. He wears a light blue singlet, blue ripped jeans, and aqua shoes. He also has bracelets on both of his wrists.
Remake
In the remake, the man has a bright light blue outline.
Background
The background is a red forest with black trees silhouettes. In Just Dance 3, black falling leaves and blue smoke coming from the ground had been added.
Shake Moves
There are 4 Shake Moves in the Just Dance routine:
Shake Move 1: Shake your arms in the air like you are playing the cymbals of a battery. This the first move in the routine.
Shake Moves 2, 3, and 4: After the first two verses and choruses of the song, wildly shake your right arm, like you're playing a guitar in the guitar solo. 
Gold Moves
There are 3 Gold Moves in the Just Dance 3 remake. These Gold Moves carry onto the track's future appearances:
Gold Move 1: Throw your arms out.
Gold Move 2: Perform a "smash guitar" by hold both hands together and throw them quickly to the floor.
Gold Move 3: Throw your arms out while leaning forward. This is the final move of the routine.
Louie Louie appears in the following Mashups:
Trivia
Louie Louie itself is not the original, it is a cover of an older version by Richard Berry.

This makes Louie Louie the first song in the Just Dance series to be covered by someone who does not work for Ubisoft.

The dancer resembles both Kurt Cobain and a young Iggy Pop.
Louie Louie and Who Let the Dogs Out? are the only routines to have shake moves that are different than each other.
There is a glitch in the Just Dance version; at the end, the dancer reappears in the start position for a while, but it immediately gets covered by the scoring display.
The song has the closest appearance of a Shake Move in the whole game (just 10 seconds after the start).
In Just Dance, the line "I think about the meaning of my life again" is split up as "I think about/The meaning of my life again ". But in Just Dance 3, it is split up as "I think about the meaning/Of my life again".
The dancer appears in Video Killed the Radio Star.
In the Just Dance 3 version, the intro (which contains a male voice saying "And now, the news") is covered by a buzzing sound. This buzzing sound is removed in the Just Dance Now version.[2]
The pictogram for Shake Moves 2, 3, and 4 is near identical to the pictogram for Lump's Shake Move, in both shape and color.
In Just Dance 3, Gold Move 3 is not counted.
Gallery
Game Files
In-game screenshots
Videos
Official Audio
Gameplays
Extractions
References