"Love Boat" by Jack Jones (covered by Frankie Bostello in-game) is featured on Just Dance 2014, Just Dance Now, and Just Dance Unlimited.
Appearance of the Dancer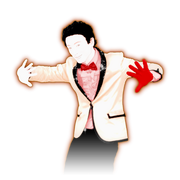 The coach is a young man. He wears a white tuxedo with black highlights which neatly covers a pink shirt, red bow tie, red glove, and red shoes. His pants and hair are black. He has a brownish outline.
Background
The coach stands on a red velvet deck near an ocean at sunset, which has a black piano behind the dancer that is missing a leg, and a microphone. It has the Just Dance logo on it. Deeper in the background is a sinking ship, which lights up during the chorus and slowly sinks throughout the choreography. At some points in the choreography, there is a couple floating on objects.
Gold Moves
Classic
There are 2 Gold Moves in this routine:
Gold Move 1: Brush off sweat from your head with your both hands.
Gold Move 2: With both hands outstretched, do a leap.
Mashup
There are 2 Gold Moves in the Mashup:
Gold Move 1: Put your left hand on your hips and raise your right hand (U Can't Touch This).
Gold Move 2: With both hands outstretched, do a leap. (Love Boat)
Love Boat has a Mashup that can only be unlocked in August.
Dancers
Love Boat makes appearances in the following Mashups:
Party Master Mode
Love Boat has a Party Master Mode. Here are the captions that appear in order of appearance:
(Captions in bold indicate a Song Switch.)
Trivia
Gallery
Game Files
In-Game Screenshots
Promotional Images
Beta Elements
Others
Videos
Official Audio
Gameplays
Classic
Alternate Routines
Extraction
References
v - e - d

Puppet/Party Master Modes
Community content is available under
CC-BY-SA
unless otherwise noted.